From the Langum Charitable Trust website "A prize to encourage and reward excellent American historical fiction is a natural element in our effort to make the rich history of America accessible to the educated general reader. The David J. Langum, Sr. Prize in American Historical Fiction is offered annually to the best book in American historical fiction that is both excellent fiction and excellent history".
The 2012 winner is Ron Rash's The Cove. (M)


"The New York Times bestselling author of Serena returns to Appalachia, this time at the height of World War I, with the story of a blazing but doomed love affair caught in the turmoil of a nation at war. Deep in the rugged Appalachians of North Carolina lies the cove, a dark, forbidding place where spirits and fetches wander, and even the light fears to travel. Or so the townsfolk of Mars Hill believe–just as they know that Laurel Shelton, the lonely young woman who lives within its shadows, is a witch. Alone except for her brother, Hank, newly returned from the trenches of France, she aches for her life to begin.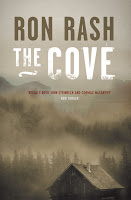 Then it happens–a stranger appears, carrying nothing but a beautiful silver flute and a note explaining that his name is Walter, he is mute, and is bound for New York. Laurel finds him in the woods, nearly stung to death by yellow jackets, and nurses him back to health. As the days pass, Walter slips easily into life in the cove and into Laurel's heart, bringing her the only real happiness she has ever known. But Walter harbors a secret that could destroy everything–and danger is closer than they know. Though the war in Europe is near its end, patriotic fervor flourishes thanks to the likes of Chauncey Feith, an ambitious young army recruiter who stokes fear and outrage throughout the county. In a time of uncertainty, when fear and ignorance reign, Laurel and Walter will discover that love may not be enough to protect them. This lyrical, heart-rending tale, as mesmerizing as its award-winning predecessor Serena, shows once again this masterful novelist at the height of his powers." publisher
Also in the running were:
San Miguel (M)
by T.C. Boyle
True Sisters (M)
by Sandra Dallas
A Good Man (M)
by Guy Vanderhaeghe
Slant of Light
by Steve Wiegenstein
Source: http://www.thereader.ca/2013/01/2012-langum-prize-in-american.html