Here for your reading consideration are three crime fiction novels that have somewhat unusual plots and have received starred reviews:
by

Philippe Claudel (translated from French)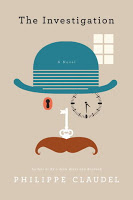 *Starred Review* Where are we? In hell? Astonished readers share the perplexity of the Investigator, the nameless protagonist seeking to solve the mystery of 22 unexplained suicides in one bleak housing complex. But as he stumbles into a netherworld of nightmarish absurdity, readers recognize a literary reincarnation of Kafka's K in The Trial. For, like K, the Investigator ultimately confronts not a unique challenge facing a particular man but, rather, the existential dilemma enveloping all mortals.
To render that dilemma imaginatively potent, Claudel inverts all the conventions of detective fiction and then invests the inversions with haunting implications. Utterly unlike the triumphant Sherlock Holmes, who solves the most difficult cases by teasing truth out of tiny clues, this absurdist detective staggers into ever-deeper incomprehension as he butts his head vainly against frustrating obstacles, human and inanimate. Slowly, painfully, he realizes that in this labyrinth of death, he is himself the quarry, trapped by an implacable Shadow.
Spare and taut, the tale unfolds with the inevitability of fate, drawing readers into the profoundest of human enigmas. Felicitously translated from the 2010 French original, this masterwork adds luster to the stellar reputation Claudel established with his prizewinning By a Slow River (2003) and Brodeck (2007).
*Starred Review* The thing about Indian writer-educator Khair's first novel to be published in the U.S. is its deceptive simplicity. At first glance, this slim Victorian thriller seems no more than an expose of British imperialism wrapped in a Kill Bill plot. Khair uses a familiar Victorian literary frame (an unnamed narrator shares a supposedly true story) and formal, descriptive language to evoke the nineteenth-century setting and to create an atmosphere of eerie suspense.
Night . . . crawls like a spider between the cobblestones. Soon the reader is enmeshed in stories within stories, in images outside common reality, and in bizarrely fascinating personalities. This tale of an Indian cult assassin brought to England as a phrenological guinea pig; of m'Lord, whose fascination with head-reading becomes a focal point of the story as his minions search for the perfect Thing ; of London's invisible people prostitutes, opium dealers, immigrants, child spies, and so-called thugs begs the question, Who are the real villains?
The changing narrative modes, obscure historical references, and nested plots may prove challenging to some, who might also find Khair's colloquial use of racial slurs offensive, but they help forge literary suspense that is authentic and deeply thought-provoking. Readers who enjoy Collins and Dickens will recognize their influence on Khair and revel in his creation." -Booklist
The Black Stiletto
(M)
by Ray Benson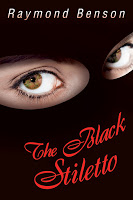 "*Starred Review* Imagine the surprise of middle-age accountant Martin Talbot when he discovers that his mother 72, stricken with Alzheimer's, living in a nursing home was the Black Stiletto, an internationally known, black leather-clad, late1950s vigilante who became a media star decades later. Getting access to Judy Cooper's diaries, Martin learns that his mother ran away from her dysfunctional home in Odessa, Texas, at 13 to go to New York, where she learned to box, earned a black belt in karate, and was tutored in using knives all useful skills for a young woman in the big city…

The appeal in this series-opener lies in the transformation of Judy Cooper into an international icon of feminist strength and power who assumes near-mythic proportions. Prolific crime-fiction writer Benson captures the style of a young woman's diary and moves with ease between time periods in this comic book-like novel of nonstop action. Prime escapism." – Booklist
Source: http://www.thereader.ca/2012/08/3-crime-fiction-novels-with-twist.html