The Evangelical Christian Publishers Association (ECPA) has been celebrating the best in the Christian publishing world since 1978.
They have just announced their 2012 winners. Here are the winner and runner up titles for the Fiction category:
Winner:
The Queen: a Patrick Bowers thriller (M)
by Steven James

"Not given to formulas, James mixes up a fresh recipe for the next installment of the Bowers Files that's a quarter-cup Sherlock Holmes mystery, a dash of plot-twisting Dr. Jekyll and Mr. Hyde, a heaping tablespoon of Tom Clancy international espionage, and a pinch of Jonathan Kellerman criminology for those hungry for new thrillers without raunchy sex and gratuitous violence, but with all the humanity and less sap than formula Christian fiction.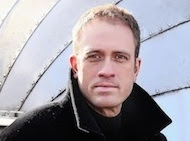 Richly textured character descriptions and revelations, villains with environmental consciences, bad guys you can nearly wish well, and a love story are all threaded smartly throughout. These are not lightweight good guy-bad guy chase scenes, but complex stories moving freely across world cultures, characters' minds, and belief systems. The downside of James's recipe is that readers will have to develop a taste for genre bending and endure mild whiplash as the narrative hopscotches from multiple points of view, or from a scene of tender love and forgiveness on to heinous misdeeds of terrorists and serial killers. Even so, with a brilliant strategy, James manages a checkmate, and he seems to have many more moves in store." -Publisher's Weekly
Runner ups:
The Reluctant Prophet (M)
by Nancy Rue

"The first in a new trilogy from seasoned writing team Nancy Rue and Stephen Arterburn, The Reluctant Prophet shows how one person's response to God's call can change a community forever. Forty'something Allison Chamberlain is still halfheartedly trying to figure out what to be when she grows up. It's a surprise to everyone when she feels a divine nudge to buy a Harley motorcycle and go wherever it takes her. Soon Allison finds herself in the darkest corners of society, bringing home drug addicted prostitutes and pointing out the narrow fears of her church group. Along the way, she learns the heartache of the very poor and how healing can come through the voice of God and those who follow it." – publisher
The Touch (M)
by Randall Wallace

"*Starred Review* Andrew Jones is a gifted surgeon. Some even claim that God has given hi. the Touch. a special gift for healing. Clearly, he has a brilliant career ahead of him, and he has just married Faith, his beautiful soul mate. Then the unthinkable happens. Andrew and Faith are in a terrible car crash, and she doesn't make it. Unable to save the person he loves most, Andrew lays down his scalpel, refusing to operate ever again, although he works endless shifts at the hospital, helping wherever he's needed. Lara Blair is a wealthy, accomplished surgeon who has inherited a biomedical engineering company and designed a robotic machine that can operate on the brain with far more precision than any human. But it must follow the movements of a surgeon who models the process. Lara is talented, but she has a secret, and she is desperate to find a surgeon whose skills surpass hers. Andrew may be her last chance.
Wallace, who wrote the script for the Academy Award-winning Braveheart, has created a novel about one man's pain and his eventual redemption that is so realistic readers are sure to respond to its overwhelming emotional pull." – Booklist
Freedom's Stand (M)
by Jeanette Windle
"Jamil renounced a life of jihad when he encountered the life-changing
message of Isa Masih [Jesus Christ]. But his new mission as an itinerant health worker among the hills of Afghanistan is met with skepticism and even violence.
Returning to Afghanistan, relief worker Amy Mallory is shocked by the changes in her organization-changes with dire implications for the women and children under her care. And concern for her former assistant, Jamil, weighs heavily on her heart. Former Special Forces veteran Steve Wilson faces off against the riots and corruption of Kabul's upcoming election. He's looking for something that will give his life purpose but is confident that he won't find it in Afghanistan.
All three are searching for love and freedom. But in a country where political and religious injustice runs rampant, the cost of either may be higher than they realize. Will any one of them be willing to pay the ultimate price? – publisher
Mine is the Night (M)
by Liz Curtis Higgs

"As supporters of Bonnie Prince Charlie's rebellion, Elisabeth and Marjory Kerr have been branded as traitors and outcasts. An accomplished seamstress, Elisabeth eventually finds work as a dress maker for the local gentry, which brings her into contact with Lord Jack Buchanan, an unmarried gentleman of considerable means. Will Lord Jack step forward to help Elisabeth and Marjory, or will their scandalous ties to the Jacobite rebellion prove too great a risk to his reputation and wealth? Set in 18th-century Scotland." – publisher
Source: http://www.thereader.ca/2012/05/5-great-christian-fiction-titles-2012.html