Looking for some new nonfiction this month? Here are a few of the highlights I've come across with February releases.
Literary Rogues : a scandalous history of wayward authors (M) by Andrew Shaffer (Feb 5).

For anyone who ever thought learning about the great authors of our time was boring Shaffer presents his take on literary biography. "A Wildly Funny and Shockingly True Compendium of the Bad Boys (and Girls) of Western Literature. Rock stars, rappers, and actors haven't always had a monopoly on misbehaving. There was a time when authors fought with both words and fists, a time when poets were the ones living fast and dying young. Brimming with fascinating research Literary Rogues is part nostalgia, part literary analysis, and a wholly raucous celebration of brilliant writers and their occasionally troubled legacies." Sign me up!

The Genius of Dogs: how dogs are smarter than you think (M) by Brian Hare and Vanessa Woods (Feb 5)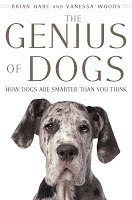 I've said it before, I love a dog book. Not every dog book, mind you, but this one seems right up my alley: "In the past decade, we have learned more about how dogs think than in the last century. Breakthroughs in cognitive science, pioneered by Brian Hare have proven dogs have a kind of genius for getting along with people that is unique in the animal kingdom. Brian Hare's stunning discovery is that when dogs domesticated themselves around 40,000 years ago they became far more like human infants than their wolf ancestors. Domestication gave dogs a whole new kind of social intelligence. This finding will change the way we think about dogs and dog training—indeed, the revolution has already begun."
Potentially a good companion read for those who enjoyed Inside of a Dog: what dogs see, smell, and know by Alexandra Horowitz (even the covers are really similar!).
Detroit: an American autopsy (M)
by Charlie LeDuff (Feb 12).

Detroit seems to becoming a cultural touchstone in the US: the once great city that is suffering through economic hardship is seen by many as a distillation of the woes that are facing the country as a whole. Charlie LeDuff is an award winning journalist who returned to his hometown to search "through the ruins for clues to its fate, his family's, and his own." If this title interests you, you may also want to check out Detroit City is the Place to Be : the afterlife of an American metropolis by Mark Binelli.

Banksy: the man behind the wall (M)
by Will Ellsworth-Jones (Feb 12).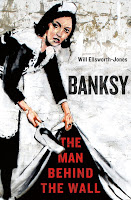 I'm torn on this one: a biography of Banksy? Certainly I'm curious, but isn't part of the mystique of the world's most famous street artist the fact that no one really knows who he is? Ellsworth-Jones obviously doesn't think so:
"In the first ever full-scale investigation of the artist, reporter Will Ellsworth-Jones pieces together the story of Banksy, building up a picture of the man and the world in which he operates. He talks to his friends and enemies, those who knew him in his early, unnoticed days, and those who have watched him try to come to terms with his newfound fame and success. And he explores the contradictions of a champion of renegade art going to greater and greater lengths to control his image and his work. Banksy offers a revealing glimpse at an enigmatic figure and a riveting account of how a self-professed vandal became an international icon—and turned the art world upside down in the process."

Eighty Days: Nellie Bly and Elizabeth Bisland's history-making race around the world (M)
by Matthew Goodman (Feb 26).

How great does history book this sound? (Answer: pretty great!)
"On November 14, 1889, Nellie Bly, the crusading young female reporter for Joseph Pulitzer's World newspaper, left New York City by steamship on a quest to break the record for the fastest trip around the world. Also departing from New York that day—and heading in the opposite direction by train—was a young journalist from The Cosmopolitan magazine, Elizabeth Bisland. Each woman was determined to outdo Jules Verne's fictional hero Phileas Fogg and circle the globe in less than eighty days. The dramatic race that ensued would span twenty-eight thousand miles, captivate the nation, and change both competitors' lives forever.
The two women were a study in contrasts. Nellie Bly was a scrappy, hard-driving, ambitious reporter from Pennsylvania coal country who sought out the most sensational news stories, often going undercover to expose social injustice. Genteel and elegant, Elizabeth Bisland had been born into an aristocratic Southern family, preferred novels and poetry to newspapers, and was widely referred to as the most beautiful woman in metropolitan journalism. Both women, though, were talented writers who had carved out successful careers in the hypercompetitive, male-dominated world of big-city newspapers. Eighty Days brings these trailblazing women to life as they race against time and each other, unaided and alone, ever aware that the slightest delay could mean the difference between victory and defeat."
Source: http://www.thereader.ca/2013/02/5-nonfiction-titles-to-look-for-in.html