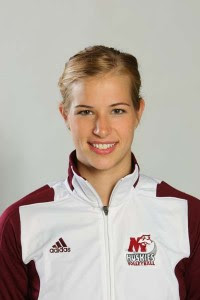 The 2010/11 AUS MVP digs up some personal info with Armaan Ahluwalia.


Current Team: Saint Mary's Huskies
Height: 184cm
Date of Birth: June 18th 1989
Where you are from: Shubenacadie, NS
Where you played High School Volleyball: Hants East Rural High
Favourite Player: Annie Levesque
Favourite Team: My own Huskies
Player you model your game after: Annie Levesque, Emily Cordonier
How old were you when you started playing: Grade 9 Club Season (15yrs)
Why Volleyball: I excelled at it the most, enjoyed it the most. Plus there's no running involved.
Pre Game Rituals: Visualization, Listening to my Pump-Up play list, then sitting on the bench until it's time to start warming up.
Whats the most listened song on your IPod: Shut It Down -Drake ft. The Dream
Dream Lineup, with you in it: Annie Levesque(libero), Ashley Creighton(Middle), Jennifer Hinze(Middle), Tess Edwards(Setter), Kyla Richey(Right Side), Me(Power), Liz Cordonier(Power)
Hobbies: Sports, Reading, Piano, Farming
Best Skill: Hitting
Area of your game that needs work: Blocking and passing mainly, but everything can definitely improve
Favourite Coach and why: Huskies Coaching Staff & Olivier Trudel(Montreal), they have taught me much of what I know and always keep it interesting
What are your goals Short and Long term:
Short – Win AUS 2011
Long – Probably to start on Team Canada and play pro in Europe
Favourite Movies: The Ugly Truth, No Strings Attached, Without a Paddle, The Proposal
Role Model: Dad, Susan Vanderkooy
Goals for the year: Win AUS 2011, win MVP of the league
Most famous person in your cell phone: Darcy Brown of the Hamilton Tigercats
One Crazy thing about you: I don't buy any clothes full price – Value Village is my favorite store
Favourite Food: Chips – any flavor
Dream Vacation Destination: Anywhere down south with the girls, All-inclusive!
In your free time you are: Reading, listening to music, relaxing, hanging out with friends
IPhone or Blackberry: Iphone for the game Apps!
Armaan Ahluwalia is a writer with the Dal Gazette and www.1inthestands.wordpess.com. Follow Armaan on twitter @therealbrindian.
Sportstream.ca is the home of the Saint Mary's Huskies and the Subway AUS Men's Basketball Championship. Follow us on twitter @_sportstream_.