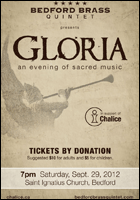 The Bedford Brass Quintet presents Gloria: An Evening of Sacred Music
7 p.m. on Saturday, September 29 at Saint Ignatius Church (1288 Bedford Highway)
Take a guided tour through centuries of spiritual music with the Bedford Brass Quintet. Gloria features lush renaissance harmonies, intricate baroque music, sweeping classical melodies, moving traditional hymns, soulful African American spirituals, and toe-tapping dixieland songs of praise.
Gloria is a fundraiser for Chalice, a respected international aid and development agency headquartered in Nova Scotia. Chalice works to alleviate the effects of poverty in Asia, Africa, Latin America, Haiti, and Ukraine. For three years running, Chalice has received an A rating from MoneySense magazine, with over 92 percent of funds going directly to development programs. Visit chalice.ca for more information.
Donations to Chalice will be accepted at the door. Suggested donation is $10 for adults and $5 for children.
Founded in 2011, the Bedford Brass Quintet performs an exciting mix of classical and pop music. The group features five accomplished musicians who have played with many of Canada's leading ensembles. Members have performed with Symphony Nova Scotia, the National Ballet Orchestra, the Stadacona Band, the Hamilton Philharmonic, Intrada Brass, the Chester Brass Band, the Jubilee Swing Orchestra, and more. Visit bedfordbrassquintet.com to learn more.
Source: http://www.bedfordbeacon.com/bedford-brass-quintet-presents-gloria