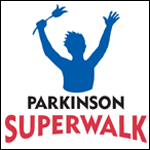 The Halifax/Bedford walk will take place in DeWolf Park, Bedford on Sunday, September 9, 2012.
Born and raised in Parrsboro, Nova Scotia and now living in Bedford,  Peter Davison was a man living life to the fullest – a motivational speaker, adventurer, high-altitude trekker and marathon runner – so it came as a shock when he started having difficulty with simple tasks such as brushing his teeth or writing his name. At the age of 45, Peter was diagnosed with young onset Parkinson's, a neurodegenerative disease that causes tremor, slowness, stiffness, balance problems and rigidity of the muscles.
Peter has kept his zest for life and has thrown himself into advocacy, taking advantage of any opportunity to educate others about Parkinson's and becoming a regular speaker for Parkinson Society Maritime Region on the topic of living well with Parkinson's.
Early in his diagnosis, Peter realized the value of connecting with other people living with young onset Parkinson's and he encourages people across the country to take advantage of support groups and services provided by Parkinson Society Canada which allow people to talk about their own experiences and learn from others.
Peter is an avid participant in Parkinson SuperWalk to help raise money for the valuable education, resources, support services and research funded by Parkinson Society Canada. This year, Peter will be joined by his extended family, as well as his wife, three and a half year old daughter and 18 month old son.
It is estimated that there are more than 100,000 people living with Parkinson's disease across the country. On September 8th-9th, 14,000 volunteers and participants in 95 different communities across Canada will participate in Parkinson Society Canada's 22nd annual Parkinson SuperWalk, walking together to raise $3 million nationwide.
The Halifax/Bedford walk will take place in DeWolf Park, Bedford on Sunday, September 9, 2012.
Information for the walk can be found by going here: www.parkinsonsuperwalk.ca.
Source: http://www.bedfordbeacon.com/bedford-man-an-avid-participant-in-parkinson-superwalk