Birthday Week Part One: Party Planning
I have never been a huge cake lover. White and chocolate cake? How mediocre. How blah. Put icing on top and the tasteless cake becomes even worse. Too much boring sweetness; And I say that as a sweet lover.*
Although icing can often ruin a perfectly mediocre cake, every once in a while you can upgrade a blasé cake by topping it with the perfect icing. Peanut butter or boiled icing on chocolate? Well that just takes the cake!
Now, I can be sold on some cake and cake-like delicacies. Ice cream cake with crumbly fudge crunch in the middle?

Yes please!

Banana cake? I'll have another piece!

Angel Food Cake?

Divine!

Chocolate Skor trifle?

Put a candle in it and sing me Happy Birthday!
Despite my reluctance towards this birthday party staple, I must admit that the cake was the thing I was looking forward to most about my son's first birthday party. You might think that I would be most excited about giving Cameron awesome presents or watching him play with friends. But no, it was definitely the cake that had me all wrapped up in joyful anticipation.
I've heard it said once that there is a reason babies have cake on their first birthdays: because before their first birthdays, they really shouldn't have sugary treats. So that first birthday bite of cake is a huge, exciting event. It is a milestone. It marks the first taste in a long life of delightful treats (but hopefully in moderation). I was so excited to introduce my baby to his first real celebratory desert, to watch him use his hands and experience something that so many of us take for granted. I was so excited to be a part of the process that marked this monumental event in his life and discover the joy in cake with him.
Therefore, the cake was the thing I thought about most in preparing for Cameron's party. I wanted the perfect cake. I wanted it to be fun and child friendly and delightfully delicious and not at all healthy. (Yup, I'm that kind of Mom. The kind who spoils her kid on their birthdays. So don't send your kids to his birthday party, I don't care.)
Have you ever heard of cake pops? I've been dying to try to make them for almost a year now and the time was never right. Finally, I got my butt in gear, flipped through the Cake Pops cookbook that my sister gifted me at Christmas and decided that Monster Pops would go super well with our kind of monster theme.
My recipe was supposed to make 48 of these delicious little cake and icing creations, but after a few mistakes I was left with a little more than 30. I was worried. What if everyone wanted more than one cake pop? Would there be enough? And where would we put Cameron's candle? You need a candle if you're celebrating someone's birthday with cake.
So, I called in the reinforcements. Mom! Can you help me bake a cake?! Yes, I know that the party's in a few hours! But I ruined some of the cake pops! And I and a worry wart! And I always plan for way more than I need! And I'm anal retentive! And I can't make good cake! And I need your help!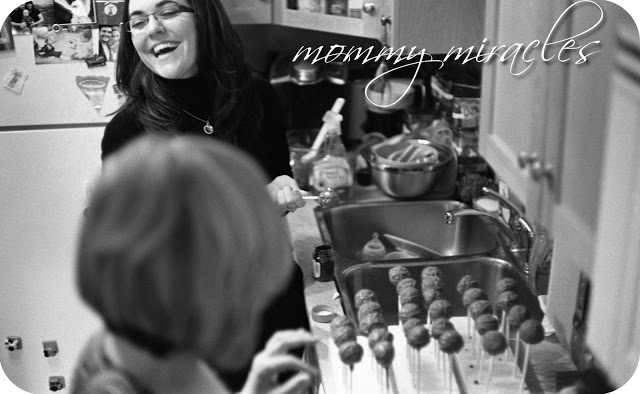 Getting help from Mom and friend Katelyn
The cakes turned out awesome. We had monster cake pops and a monster cake.
And I tell you the truth, I was so thrilled to watch Cameron enjoy his cake. I felt infinite joy discovering the wonderful sweetness and stickiness and crumbliness of cake with Cameron. He was tasting cake and icing. He was tasting Mama's hands at work. He was tasting celebration.
He was tasting my most favourite cake ever.


All photos taken on March 5th, 2011, the day of Cameron's birthday party, a day before he turned 1 year old.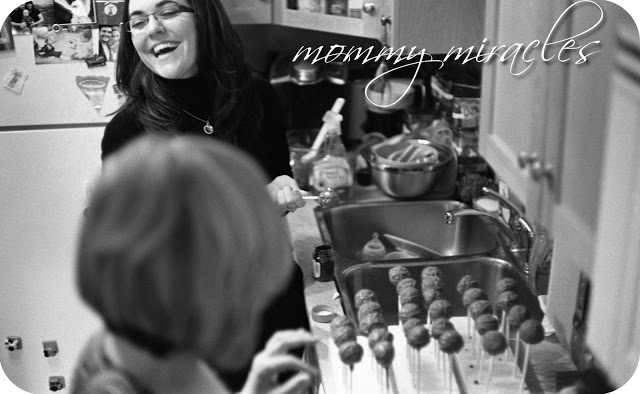 0 0
Source: http://feedproxy.google.com/~r/MommysMiracle/~3/quzg42qf8L4/birthday-week-month-icing-on-top.html