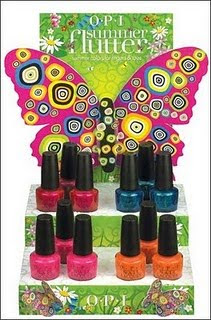 I'm back with more bloggers' giveaways today. You're probably overdosed with my IMATS posts already, lol.
Black Nail Polish and Lip Gloss has OPI Blog Birthday giveaway.
The prize is the whole Summer Flutter collection:
– Flower to Flower
– Flit A Bit
– Wing IT
– Catch Me In Your Net.
The blue glittery shade in this collection is such a killer. And I certainly don't have the Zoya version either. Summer is such a fun time to wear glitters, not that glitters need a reason or season to be worn, lol.
Contest closes July 12.
And running at the same time is another
Blog Anniversary Giveaway.
The prize:
– 3 BB Couture Cantina Nights: Sex on the Beach, Blue Bahama, Huckleberry Martini
– 4 samples of Overall Beauty's Mineral eyeshadows in your choice of shades, a cosmetic bag and a shadow brush.
This is more versatile, for someone likes me who loves both eyeshadows and nail polish. If you haven't tried Overall Beauty shadows, you should enter this.
———————————–

The Hungry Asian has a fun Nail polish giveaway.
Prizes:
– Color Club's 7-piece POPtastic set
– 6 Eyeko polishes: Indigo, Coral, Cosmic, Vintage, Nude and Tea Rose

– Nailene Couture nails (not pictured)
– China Glaze Black Magic
– A pink Hello Kitty Polish
– 2 brand new frankens: a super cute shimmery peach (named Peach Fuzz)and a blingy glitterbomb (to be named after the winner).
Deadline is July 14.
———————————–
Julu Jewelry has her first Summer giveaway until July 17.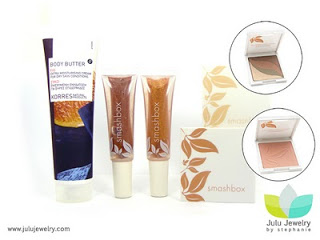 Prize Pack #1 (brown-themed) as pictured:
– Korres Body Butter in Fig
– 2 Smashbox Hybrid Lip Glosses
– A Smashbox Bronzer
– Smashbox Green Room Eyeshadow quad in Bamboo.
Prize Pack #2 (pink-themed):
– Korres Body Butter in Quince
– A Smashbox Hybrid Lip Gloss
– A Smashbox Lip Trio Palette
– A Smashbox Bronzer
– Smashbox Green Room Eyeshadow quad in Blossom.
Prize Pack #3 (candy-themed):
– Kit Kat pack in milk coffee or passion-fruit raspberry
– 2 strawberry Kit Kats
– Pink rhinestone butterfly studs.
———————————–
Beauty Judy celebrates a Follower Freebies contest until July 18. Check out the prizes.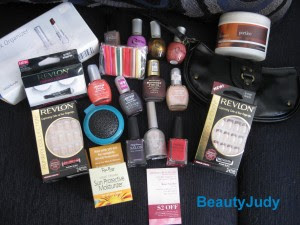 – Revlon Fantasy Lengths false lashes in Intensifying
– Revlon Runway Collection false nails in Sequins and Mystic
– Reviva Labs Light Cream Sun Protective Moisturizer
– Portico Rich Body Cream in The Hedonist
– Lipstick organizer
– Fimo nail art
– Barielle in Putt-E-On-Me
– Quirius in Lavendar Bouquet, Autumn Bronze and Windsor
– Maybelline Express Finish in Sunlit Coral, Vanishing Venus, Matte Ruby and Shimmer Shell
– Sally Hansen Salon in Plum It, Sally Hansen Hard Shine in Opulent Frost and Sally Hansen Salon in Cherry Glaze
– Brand new black wristlet
– Folding brush with mirror.
———————————–
Parokeets has a huge Summer giveaway until July 18. Prizes are: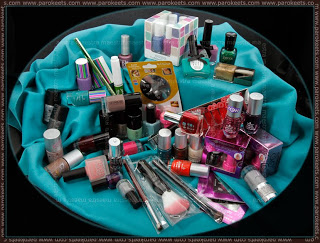 – Essence:
* Crazy About Colour: Crazy Me and Lilac Forever polishes + Dare It! eyeshadow + Crazy About Green eyeliner;
* Glam Rock: Metal Babe, Gothic Girl;
* Go Snow: Frostbite gloss;
* Into The Wild: Zulu, Desert Fox;
* Moonlight: powder brush;
* Nail Art Twins: Thelma, Carrie;
* LE Nail Art Stampy Set with black and white polish + 2 Essence nail art stamping plates;
* Nail Polish Sticker;
* Secrets Of The Past TE: Meet You In Budapest, Flowerfields, Glittering Daylight, Matryoshka Doll.
– Catrice:
* Ultimate Nail Lacquer: Sold Out For Ever, Clay-ton My Hero, Lost In Mud, Wine-tastic, Caught On The Red Carpet, Hot Or Not;
* Oceana LE: Pebble Beach.
– Essie: The Resort Collection minis.
– Ciate Paint Pots: Ditch The Heels, Fun Fair.
– L'Oreal Star Magnet: Magnetic Grey.
– H&M: Creme de la Creme.
– Zoya (Sparkle): Ivanka.
– Deborah – Sense Tech 100% mat: 02.
– Glam Nails: Larissa, Rainbow.
– p2: Charismatic.
– Alessandro: 257.
– Gosh: Slush Ice.
– S-he: 427.
– Knad Stamping Nail Art set: plate + stamper + scraper.
– Dou'ble-art dotting and stripping pen.
– Coastal Scents: Round Crease, Black On Black brushes.
———————————–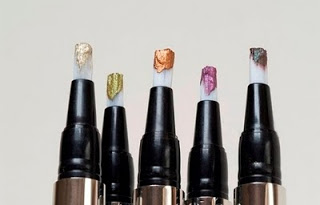 Witoxicity hosts an Ellis Faas giveaway. The prize is an Ellis Eye Light (colour of your choice), 5 winners.
Options are: E301 (warm silver), E302 (greenish gold), E303 (bronze), E304 (lilac), E305 (holographic Bordeaux).
Which one is your pick?
Deadline: July 18.
———————————–
Rêve Noir celebrates a 100 Followers giveaway.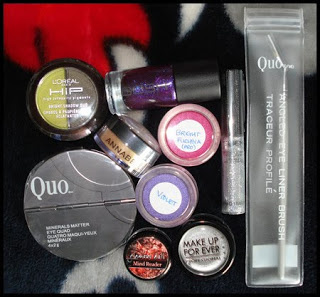 Prizes:
– Annabelle Pigment Dust in Solar
– L'Oréal Hip Bright Shadow Duo in Riotous
– GOSH Nail Lacquer in Gasoline
– GOSH Extreme Art Eye Liner in 19 (silver glitter)
– MAC Pigment Samples in Violet and Bright Fuchsia
– Glamour Doll Eyes Eyeshadow Sample in Mind Reader
– Quo Minerals Matter Eye Quad in Eco You
– Quo Angled Eye Liner Brush
– Make Up For Ever Flash Color in No. 003 (silver).
Enter by July 21.
———————————–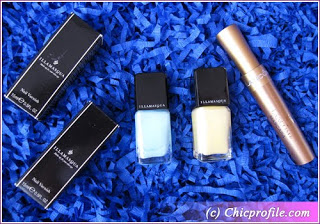 Chic Profile hosts a Illamasqua and Lancome giveaway.
You can win:
– 2 Illamasqua nail varnishes from The Pastel Nails collection: Nudge and Blow
– Limited Edition Lancome mascara in Black.
Illamasqua hasn't come to Canada yet, so this is an exciting prize to win, don't you think?
Giveaway closes July 22.
———————————–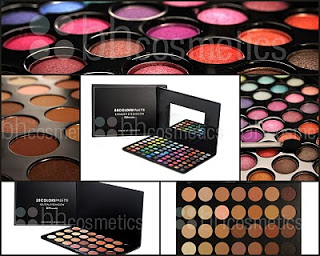 Today's Diva has BHCosmetics giveaway. BHCosmetics carries all the famous eyeshadow (120's and 88's) palettes we have seen on the internet.
If there's a palette you are eyeing, try this giveaway as you can pick a palette of your choice if you win.
Enter by July 23.
———————————–
My Makeup Blog has a Blog Second Birthday giveaway until July 25.
Prize pack #1 (pictured):
– Mei cleanser, toner, day and night creams
– L'Oreal 24HR eye repair duo
– L'Oreal Telescopic Explosion
– Adorned with Grace minerals April 2010 Limited Edition eye shadow samples
– EcoTools brow grooming set.
Prize pack #2:
– Z Mei cleanser, toner, day and night creams
– Yes to Carrots C Me Shine lip gloss in Rose Bliss and C Me Blush lip tint in Cotton Candy
– Formula D Minerals eye shadows in Blue Steel and Kaleidoscope, blush in Radiance.
Prize pack #3:
– Z Mei cleanser, toner, day and night creams
– Sally Hansen Xtreme Wear mini nail polish set
– Yes to Carrots C Me Shine lip gloss in Playful Nudes and C Me Blush lip tint in Coral Shimmers
– Miley Cyrus and Max Azria UK t-shirt (size large).
———————————–
Konadlicious has a second huge Aussie giveaway, running until July 30.
Prizes:

– Ulta3 English Rose, Envy
– BYS Raspberry Chocolate, Astro Gold
– JayJays Magnetic silver glitter
– Mode Hook me up, Diamonte
– Miki Black creme
– Simpli 13
– Be Yourself Razzle Dazzle
– L.A Colors Intense Brites Collection
– 1 Bundle Monster nail stamping plate
– 1 Chez-Delaney nail stamping plate
– 1 Fauxnad nail stamping plate
– 1 boxed Gold KOnad stamping polish
– 1 cool Zebra striped iphone case
– A selection of Aussie chocolates
– 2 of her handmade glass beads in the shape of cupcakes
– A pair of her handmade glass bead earrings in sterling siver with Swarovski crystals.
———————————–
R3 Daily has a Cleaning Out Closet giveaway until July 31.
First prize (pictured): 25 (used) nail polishes
– Superstar: It Girl Orange, Walk the Red Carpet, Guccie Green, Golden Globe & Park Ave Purple
– Isadora: Colibri
– KM: Purple Bloom
– Sinful: Tokyo Pearl
– Sally Hansen: Fire Opal, Star Opal & Pardon My French
– WNW: Copa, Bora Bora, Barbados, Shield
– China Glaze: Code Orange & Matte Magic
– Rimmel: 660 Climax
– Revlon: Red Hot Tamale
– Nina Ultra Pro: Purple X-ing
– Maybelline: Crimson
– NFU-Oh: 12
– Goldie: 2 unnamed polishes
– Zoya: Reece.
Second prize: Studio M Purple Medallion, China Glaze Watermelon Rind, Matte Magic Mini and a brand new CND Cuticle Eraser.
Third price: Borghese Glitter mini, Essence Top Coat (new), Essence Break Through, Pool Party and a brand new CND Solar Oil mini.
———————————–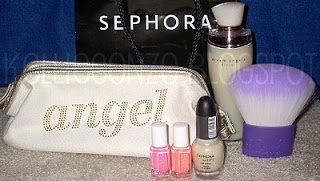 Also Known As… has her July giveaway.
Prizes:
– Victoria's Secret Dream Angels Divine lotion and Angel makeup bag
– Urban Decay jumbo bronzer brush
– Sephora by OPI nail lacquer in Can You Keep a Secret?
– Essie mini lacquers in Knockout Pout and Haute as Hello (swatched once).
Enter by August 1.
———————————–
Dainty Darling Digits has a fun Go Green giveaway until August 6.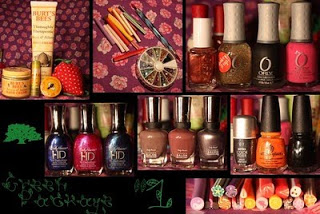 First prize (pictured):
– Burt's Bees Beeswax & Banana Hand Creme, Thoroughly Therapeutic Honey & Bilberry Foot Creme, Beeswax Lip Balm tin
– Alba Botanica Coconut Cream Lip Balm
– Physicians Formula Bamboo Wear Bamboo compact
– Strawberry reusable bag
– 16 Fimo sticks in multiple designs
– 1 Rhinestone wheel
– 1 dotting tool
– Essie Glitzy Guilders
– Orly Matte Vinyl, Basket Case, Prisma Gloss Gold, Beverly Hills White Tips, Beverly Hills Plum
– China Glaze Dreamsicle, Liquid Leather
– Sally Hansen HD Laser, DVD, Byte
– Sally Hansen Complete Salon Manicure Plum's The Word, Pedal To The Metal, Commander in Chic
– Petites Color Fever Black Diamond.
Second prize:
– Ecotools Earth-Friendly Beauty Intensive Hand Cream
– Burt's Bees Beeswax Lip Balm
– Avon Nailwear Pro Nocturnal, Coral Bikini
– Revlon scented nail polish in Beach
– Revlon Violet Light, Iced Mocha, Nordic Nude
– Orly French Manicure Sweet Blush, Bare Rose
– Maybelline Express Finish Summer Sunset, Cocoa Motion, Golden Plum.
Third prize:
– Alba Botanica Coconut Cream lip balm
– Sinful Colors Purple Diamond
– Sally Hansen Xtreme Wear Celeb City
– Milani Starry Pink
– Claire's Yellow Brick Road, Chunky Purple, Love Struck
– Claire's Mood nail polish Peaceful/Confident
– NYC Lincoln Center
– Sally Hansen Insta- Dri in Pink Breeze.