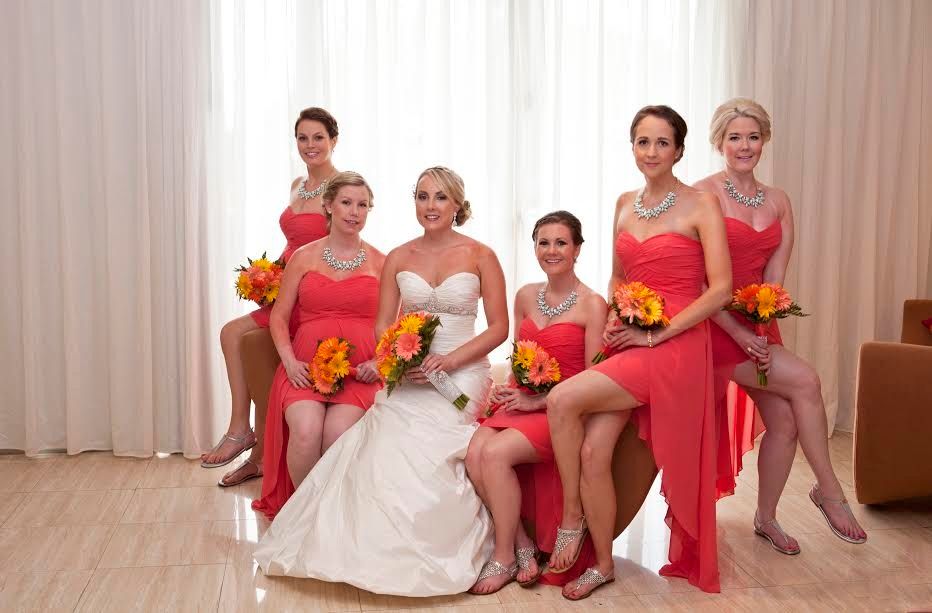 I'm definitely at that age where EVERYONE is getting married, and I kind of have to say it's really kind of a beautiful thing (especially when it involves a week long trip to Mexico).
One of my really good friends tied the knot with her high school sweetie on a beautiful beach in Mexico, and I had the best time catching up with all my old friends and soaking up the sun.
There are many things that stink about being a grown up, and drifting away from old friends is probably one of the biggest ones. It's so tricky with everyone doing their own things and living all over the country that I really appreciated this time with everyone. It was so fun to spend the week with everyone lounging at the pool, dancing our hearts out at the disco, and getting this pretty ready for her big day. 
We had a few bumps in the road the day of the wedding (
shame on you wedding planners
), but once we got over those hurdles and everyone go themselves picture perfect it really was a seamless day! Luckily the sun buggered off a little during the ceremony (amen to a 4pm ceremony), and there was a nice breeze (causes a little more imagination and patience from 
Nancy Thomas)
. Leading up until the wedding we thought for sure it was going to rain (and even thunderstorm), but luckily it got that out of its system in the morning which really helped to remove the humidity from the air (thank you Jesus) and saved all our hair.  It was a beautiful ceremony, and I really didn't think I would get emotional (don't worry I wore water proof mascara), but low and behold there wasn't a dry eye on that beach. 
I'm so happy for these two and I wish them all the happiness in the world, and I'm so glad I got to share in this special day.
Since this is a life and style blog I can't let you go without mentioning where these super cute bridesmaid dresses are from. We hand selected these dresses from
David's Bridal
, at Dartmouth Crossing, as you know I am a huge fan of David's Bridal. Not only are their prices super reasonable (which is very important when travel is including in your bridesmaid duties), but they also offer a huge range of bridesmaid dresses that are offered in SO many different colors. While receving a tour of David's Bridal I also learned that their perfect sizing is not by accident. There's a lot of research that goes into how they design their sizing, as to minimize alterations. Surprisingly I had my dress for probably a year and it fit me perfectly in store, and as just as good when I attended the wedding! Pretty impressive. What I also loved about this dress is that even our girls who had unexpected baby bumps (yeah I'm at that age too) still managed to wear their dresses with just a few tweaks from the seamstress.  We also wore shoes from Le Chateau, and our necklaces were from Etsy.
The fellas were wearing suits from Moores (with the jackets removed of course we didn't want to kill them), and looked pretty sharp I must add. Being the stylist that I am (I can't be contained), of course I tucked all their shirts in upon arriving for the ceremony, and before sending them down the aisle 🙂
The bride wore Paloma Blanca purchased at With Love Bridal in Ottawa. The dress was perfect , and so very her! Although it looks heavy upon first glance it was actually as light as a feather, and  as the bride atested after being in it all day "perfect for a down south wedding".  
Thanks so much to 
Nancy Thomas Photography
for these photos (find her on Facebook by clicking
here
), and
David's Bridal
for this beach perfect dress.
Hope you enjoyed these posts blog reader! I still have some Mexico Outfit photos that I'm waiting to get back from the photographer, but I'll share them as soon as I get them. Hope you have a great weekend!