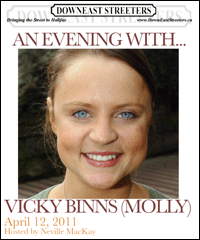 The Downeast Streeters are pleased to announce An Evening With Vicky Binns!
Downeast Streeters is a Non Profit Society and a Coronation Street Fan Club. They bring "The Street" to HRM by raising funds to bring a cast member from Coronation Street each year for a large fan fare event. Vicki Binns (aka Molly Dobbs) is coming up on April 12, 2011 at The Westin Hotel. The event is hosted by Neville MacKay.
When: Tuesday, April 12, 2011
Where: Commonwealth Room, The Westin Nova Scotian, 1811 Hollis Street, Halifax
Tickets are available for $27 at these locations:
Celtic Traditions (Spring Garden Place, Halifax (902-492-3390), the Edgewood Cafe (CASH ONLY, 250 Baker Drive, Dartmouth (902-463-3740) and Ed's Unique Gifts, (10 Akerley Blvd, Burnside (902-830-7815).
For more information on how to purchase tickets, you can also email them.
For more information visit downeaststreeters.ca.