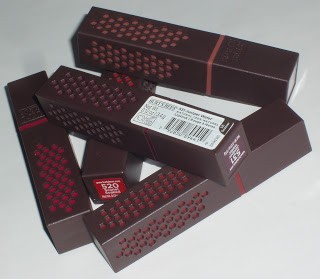 The start of the new week, the week that I hope is the end of late season snow and below 0 temperature.
Bright makeup normally is a nice distraction and mood booster in my book, but sometimes, in a rare case, it is also a letdown against the hype.
I had a great experience with Burt's Bees lip crayons in the past, so when I heard bloggers raved about the brand's latest release of lipsticks, I sure wanted to try them.
Also 100% natural, infused with Beeswax, Vitamin E, Moringa and Raspberry seed oils, the lipsticks claim to be vibrant and full coverage, with 8 hour moisture and a satin finish.
Couldn't help myself, I picked up 5 shades – 502 Suede Flash, 514 Brimming Berry, 520 Scarlet Soaked, 531 Juniper Water and 532 Russet River.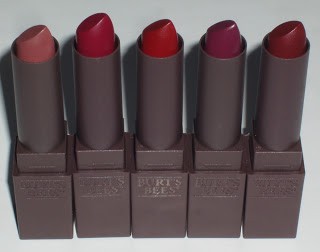 Gorgeous packaging, with honeycomb shaped cutouts and colour indication on the tubes. The name stickers are placed over the opening, so you can tell if the tube is tampered with.
The bullet is thin and slightly longer than usual, which I am not sure is a good decision, for the fear of breaking it in half if I get carried away with heavier hand than needed. There is also a faint scent to these to note.
The testers on the shelf swatched quite beautifully and helped with the purchase decision. At home, however, the 5 I bought go on my hand and lips semi sheer and not that pigmented. I would assume with constant use, the drier layer at the top of the bullets would wear off and they would perform better but that does not happen yet.
For that reason, I will show you how the intense colours in the tubes above turned into these swatches. If pigmentation changes down the road, I will update the post.
Suede Flash disappears on my dark lips if worn alone, unfortunately. Brimming Berry and Scarlet Soaked are the brighter shades, slightly better coverage. Juniper Water and Russet River look deliciously dark in the bullets but so light on. I was sad!
The lipsticks are 0.12oz/ 3.4g, $9.99 each at Shoppers. Let me know if you have better luck with them.