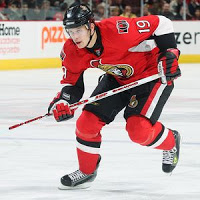 Jason Spezza's patience for Ottawa fans and media has run dry.
The situation surrounding Jason Spezza and the Ottawa Senators has been ratcheting up my blogging ire over the past couple weeks and has nearly hit the boiling point in the past 48 hours.
Rumours persist that Spezza will be traded due to his dissatisfaction with the way the season ended and the reaction he received from the fans and the media. Frankly, after reviewing what is being said in the Ottawa media, particularly the Ottawa Sun, I can't blame him for being open to a trade.
It all began with Ottawa GM, Bryan Murray stating that Spezza was a bit down about the way the season ended and the reaction he got from the fans. Good. I want my top line center to be bummed about getting knocked out in the first round. I think it is great that a player cares what the fans think. Previously people had questioned whether Spezza was truly dedicated and serious about winning because of his trademark laugh and jovial personality in post-game interviews.
If Spezza was playing like a dog and complaining about fans booing him, then I wouldn't have a whole lot of sympathy. But Spezza turned a rough start to this past season into a huge positive, coming back from injury to be an offensive force and led them to the playoffs. Most pundits had Ottawa failing to make it this year.
Does Jason Spezza make mistakes on the ice? Certainly. Was he responsible for the Senators falling to the Pittsburgh Penguins? Absolutely not. While not playing his best hockey, Spezza still managed to put up over a point per game in the playoffs.
Unfortunately the biggest culprit in the anti-Spezza movement seems to the media, particularly the Ottawa Sun. It has become a daily ritual of the Sun to print multiple articles on the reasons Spezza should be moved. They seem to search out Ottawa residents that share their sentiment and neglect to present opposing views. Responsible journalism what?
The most infuriating to me was Don Brennan's column where he printed pure speculation that Spezza's feelings stem from a conflict with Cory Clouston. With such tactics the Sun seems to be setting Spezza as a Heatley 2.0, which is both untrue and irresponsible.
I am not sure what fans that want Spezza traded expect to get back or how they plan to replace his offense. I am not even entirely sure why they want him gone.
Trading Spezza will be a mistake the Sens and their fans will feel for many years to come, unless Murray is able to find Milbury reincarnated running some team. Spezza is the best centerman the Senators have ever had and should be treated as such.