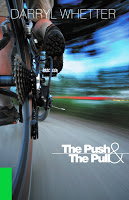 During my recent travels around our fair city I have noticed that many of our cyclists are bravely returning to the streets. Not that they ever completely disappear- I have seen many intrepid Haligonian cyclists pedaling home after work all year long through sleet, snowstorms and rain.
For the many of us though, Spring is the time to get the ol' CCM two wheeler out of the shed, grease the chain, pump up the tires and hit the road.
Why not inspire the cyclist within yourself by taking a spin with one of these recent biking titles:
The Lost Cyclist : the epic tale of an American adventurer and his mysterious disappearance,
by David V. Herlihy
"In the late 1880s, Frank Lenz of Pittsburgh, a renowned high-wheel racer and long-distance tourist, dreamed of cycling around the world. He finally got his chance by recasting himself as a champion of the downsized "safety-bicycle" with inflatable tires, the forerunner of the modern road bike that was about to become wildly popular. In the spring of 1892 he quit his accounting job and gamely set out west to cover twenty thousand miles over three continents as a correspondent for Outing magazine. Two years later, after having survived countless near disasters and unimaginable hardships, he approached Europe for the final leg.
He never made it. His mysterious disappearance in eastern Turkey sparked an international outcry and compelled Outing to send William Sachtleben, another larger-than-life cyclist, on Lenz's trail. Bringing to light a wealth of information, Herlihy's gripping narrative captures the soaring joys and constant dangers accompanying the bicycle adventurer in the days before paved roads and automobiles." – Publisher
The Hungry Cyclist : pedalling the Americas in search of the perfect meal,
by Tom Kevill-Davies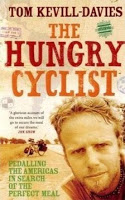 "Over 100,000 miles to cover, one man, one bike and one hungry stomach.Having created his alter-ego, the Hungry Cyclist and with thousands of pedal-powered miles before him, Tom Kevill-Davies pushed off from New York City on one of the most ambitious gastronomic adventures ever undertaken.A ballsy travel memoir The Hungry Cyclist follows Tom's adventure into the hearts and minds of the people he meets. Revealing the diverse cultures of the Americas, Tom's journey from over the Rockies to Baja California, through Central America down all the way to Brazil via Colombia, gives the real flavour of this truly extraordinary landmass.
This is a tale of death-battles with squadrons of mosquitoes, malodorous public toilets, of galloping dysentery one day, to drowning your sorrows with cowboys and dining with beauty queens the next. But above all it is an ambitious story of getting to where you want to be – even if you have to endure cactus-induced punctures, unforgiving desert heat, uphill struggles through never-ending cocaine plantations, or artfully dodge hungry bears, neurotic RV-driving Americans, angry rabid dogs and run-ins with local law authorities in the process.An amazing tale of what can happen when you get on your bike and go
The Push & the Pull,
by Darryl Whetter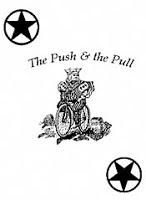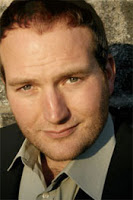 "Andrew Day embarks on a bicycle trip from Halifax to Kingston, his childhood home. As he goes, the dual narratives of Andrew's life emerge: the slow, painful death of his father and the disappearance of Betty, who may be lost to him forever. He contemplates, too, the nature of desire. En route, Andrew sloughs off his fears, material goods, and attachments. In episodes of intensifying violence, he leaves the highway and rides the back roads under the cover of night. By the time he arrives home, an epiphany greets him. Darryl Whetter writes with compelling intensity of athleticism and degeneration, isolation and community, the weight of desire and the joy and anguish present in all things."
Chasing Perfect,
by Susan Mallery
"Thrilled with the quaint small town of Fool's Gold and her new job as the city planner, Charity Jones is caught off guard when she learns that the town has a dwindling supply of men and attracting "manly" businesses is an unwritten part of her job. She's also startled by her intense reaction to the town's charming hero, former cyclist Josh Golden, who is exactly the kind of good-on-paper man she tends to avoid-with good reason. But Josh is not quite what he seems, and as he and Charity get to know each other better, they realize that they might actually be perfectly imperfect. VERDICT Warm, funny, and sexy, this lighthearted yet touching page-turner is a satisfying, rewarding read and the "perfect" beginning for Mallery's (Hot on Her Heels) "Fool's Gold" series" – Library Journal

Deadroll : a cycling murder mystery,
by Greg Moody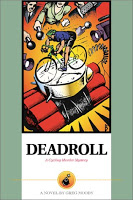 "Ex-professional cyclist Will Ross loses his promotion job with Bosco Bikes, becomes a momentary media darling by foiling a robbery, and gets a new job as a sports news reporter all in one day. In other Denver news, a mad bomber has targeted cycling for his display of displeasure (and has wounded the TV sports anchor), and Ross soon makes his short list…. Moody has produced a potent mixture: unusual subject matter, easy prose, and a serial protagonist with articulate attitude and a sharp sense of humor. Strongly recommended. " – Library Journal
Source: http://www.thereader.ca/2008/03/cycling-stories.html