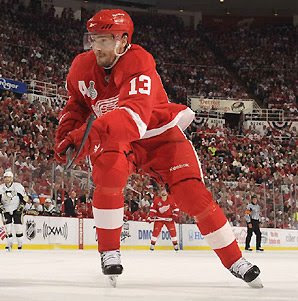 Return of Datsyuk Sparks 'Tired" Wings
Heading into game 5 there was alot talk about Detorit being old, tired, and too slow for the speedy and youthful Penguis. We were all talking about how mature Pittsburgh has become, how focused they seem to be, and how Malkin and Crosby are too much for the Wings to deal with.
Well we can all just pause.
The Red Wings pushed back in the cozy confines of Joe Louis arena and sent a very clear message to the hockey world; we are the champs, we're the Red Wings, and we're still the best team in the NHL.The Penguins bore the brunt of the message, getting completely outplayed in every facet of the game en route to 5-0 loss, pushing the Pens to the brink of elimination.
Game 6 goes tomorrow night in Pittsburgh at 9:00 atlantic.
The absence of Pavel Datsyuk and the effect it had on Detroit was front and center for all to see. Datsyuk set up the first goal of the game by Dan Cleary, and his ability to dangle the puck for extended moments in the attacking zone was critical to Detroit's victory on saturday.
Something else happened on saturday night on a personal level. I found myself cheering without hesitation or regret for the Detroit Red Wings. I tried to remain impartial, and the Penguins are a pretty easy team to like as well.
But this Detroit team is undeniably likeable, from the gritty newf, Dan Cleary, to the classy old blueliner, Niklas Lidstrom. The Wings play hard. play together, and are completely focused on winning. They seemingly have no egos, no attitude, and genuinely enjoy playing with each other. They listen to thier coach, they cheer each other own, and do not bad mouth the other team to the media. Finally, they don't make excuses, and they don't get caught up wih Pittsburgh's antics at the end of games (see Talbott slash on Datsyuk).
Needless to say, I'll be rooting for red and white on Tuesday night.
Television Ratings for NBA down from last year, NHL ratings highest in 7 years.
You're not the only sports fan not watching the NBA finals. See below from the Associated Press;
"Game 4 of the Stanley Cup finals has earned the series' highest cable television rating since 2002. The
Pittsburgh Penguins
' 4-2 win over the
Detroit Red Wings
on Versus on Thursday night drew a 2.8 rating and averaged 3.45 million viewers. The network said Monday that the average 2.7 rating for Games 3 and 4 was up 42 percent over the two games it aired last year. Versus showed Games 1 and 2 in 2008.
The 2.8 rating was the highest on Versus, beating the previous record set by Game 3.
Television ratings for Game 2 of the NBA finals are down slightly from last year.
ABC said Monday that the
Los Angeles Lakers
' 101-96 overtime win over the
Orlando Magic
on Sunday night earned an 8.2 fast national rating. That's down less than 4 percent from the 8.5 for last season's Game 2 between the Lakers and
Boston Celtics
.
Ratings represent the percentage of all homes with televisions tuned into a program"
One interesting observation of these numbers is that, even though he NHL's numbers are up, they're still 5.5 points below that of the NBA finals. 5.5 points in these ratings represent a huge gap. However, it's progress, and it's good to see that a few more people in the US are watching the game we love. If we can get close to the NBA, which alot of americans do not care about, maybe we will be considered a major market sport in the US once again.
Notes
Wonder why the Toronto Blue Jays have are 5-14 in their last 19 games? One major reason is a lack of productivity in the clutch. Whose the biggest offender? None other than franchise player Vernon Wells. V-dub is hitting .164 with runners in scoring position, with 3 homers and 25 rbi's. Even his parents are getting frustrated. Tonight in Wells' home state of Texas, Vernon struck out looking vs the Rangers, stranding Alex Rios at second base. Sportsnet's cameras flashed to Wells parents in the stands, just as his father threw up his hands, at a complete loss as to why his son didn't swing his bat, while his mother looked disgusted………Think the Jays might trade Roy Halladay? Don't count on it. Halladay firmly established himself as the best pitcher in baseball with sunday's performance vs the Kansas City Royals. Halladay threw a complete game shutout, throwing only 97 pitches and taking only 2 hours, 20 minutes to collect his league leading 10th win of the season………If the Red Wings are upset about Maxime Talbott taking a shot at Pavel Datyuk's injured right foot near the end of game 5, they certainly aren't showing it. To a man the Red Wings offered no response worth print when asked about Talbott's inexcusable hack…….Best name in MLB this season? Texas Rangers catcher, Jarrod Saltamacchia………Just so you know, if the Pens win tomorrow night, game 7 of the Cup finals will be Friday night………Brett Favre had surgery on his throwing shoulder, fueling suspicion he may still play this season with the Vikings. Vikings great Fran Tarkenton spoke out last week, saying that Favre is embarrasing himself and needs to give it up. I know Favre is stubborn, but if Fran Tarkenton is telling you to hang them up, you need to think about it………the NHLPA has come forward and said that the NHL needs to leave Phoenix…….the Cowboys have denied any reports that they are looking to re-sign Adam "Pacman" Jones……. Confirmed guests for CKDU Sports next monday at 10:00 am include baseball analyst Steve Betts, and the Head Coach of Dalhousie Tigers men's hockey, Pete Belliveau. Speaking of Dal hockey, a second Tanguay will be playing in Halifax. Alex's little brother, Maxime, has committed to the Tigers this season. Maxime was a draft pick of Chicago and scored 66 points last season with Victoriaville of the Q league.