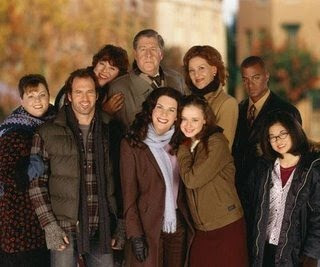 Gilmore Girls, you've probably heard, is about the relationship between a mother and daughter. And yeah, that's true – the heart of the show is the unconventional and interesting relationship between Lorelai Gilmore and her daughter, Rory. But there's so much more to the show than "it's about a mother and daughter". It's about the unique world and life Lorelai created for her and Rory. It's about how they interact with the people who enter that world, and the people who are entangled in that life. In its seven seasons the show hit a few bumps along the road, but for the most part it is a witty, well-written, emotionally captivating television show about characters whom you feel you know and love.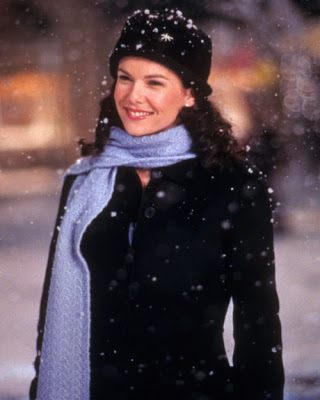 My favorite character is the mother, Lorelai Gilmore. I always related to her the best, though not because of similar life experiences. Lorelai was raised in a wealthy, snooty environment and ended up getting pregnant as a rebellious teen. That brought her Rory, and after the birth of her daughter she fled the suffocating mansion she was raised in to live in a shed and work as a maid.
What I love about Lorelai's back story is that the show never pretends the decisions she made were good ones. Lorelai is a flawed character. She can be selfish. She can be stubborn. She can be petulant. She holds a grudge. But now I'm selling her short, because she also has many great qualities. Her personality is dazzling. She's smart, funny and hip. She throws out pop culture references at the rate other people breathe. She cares immensely about her daughter and her friends. She works hard. She consumes ridiculous amounts of coffee and take-out. Maybe you don't want to be Lorelai, but you probably want to be her friend.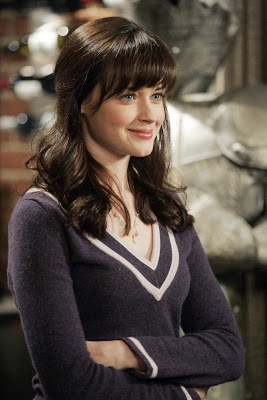 Rory had some common traits with her mother – coffee, food, movies, the quick dialogue peppered with pop culture references – but was distinctly different. She was studious, ambitious and polite. She worked hard to form bonds with her grandparents, despite her mom's disdain for them. As a high school student, Rory was a shy, brilliant bookworm. But once she hit the Ivy League, she blossomed into a leader, a go-getter and an independent, well-rounded person.
But, there was the incident. An unfortunate period of time when Rory and her mother had a huge falling out. It wasn't as though they hadn't argued before – mostly over Rory's romantic life. There were the disagreements over teen bad boy Jess, the issue of Rory losing her virginity to her married ex-boyfriend, the questionable character of Rory's rich, carefree college boyfriend Logan. It was inevitable that Rory and Lorelai would have a major falling out at some point, as this is TV and it would make for a dramatic plot device. And it made sense that Rory would become more and more involved in the wealthy, snooty upper-class life that Lorelai had worked so hard to avoid. I just wished that Rory hadn't dropped out of school. It was so weak and unlike her. Luckily, she eventually re-entered Yale and the show got back on track.
Two of the greatest things about Gilmore Girls were the town of Stars Hollow and the relationship between Lorelai and Luke.

Who wouldn't want to live in Stars Hollow, the quirky and idyllic small town where Lorelai chose to live with Rory. It was full of kooky characters and bizarre town festivals, meetings and businesses. ¬¬¬And it had Luke. Luke, the gruff but lovable diner owner who subtly flirted with Lorelai for FOUR YEARS. It takes two fantastic characters and a really devoted fan base for a show to be able to have two characters so obviously meant for each other delay their romance for four freakin' years.
At first, the romance was perfect. Luke and Lorelai made a believable couple. The first conflict they hit was a result of Lorelai's parents' intense (and rudely blatant) disapproval of Luke. The couple broke up. Lorelai was crushed. Luke was stoic, but angry and hurt. Eventually, they reconciled. They got engaged. They should have lived happily ever after.
Instead, the show introduced Luke's long lost daughter. What. A. Horrid. Mistake. Luke went off the rails after finding out about April, a daughter he didn't know he'd had. The relationship ended, and Lorelai ran back to Rory's dad Christopher. Did anyone want to see him re-enter the picture as anything other than Rory's dad? Was anyone rooting for a Lorelai/Chris relationship? I felt cheated, the way I felt cheated when Veronica (on Veronica Mars) ended up with that schmuck Piz instead of her epically romantic soulmate Logan. Gilmore Girls was coming to a close and Luke and Lorelai had broken up a second time. It was not how things were supposed to go.
I blame the show's creator, Amy Sherman-Palladino. Though a lot of people say the seventh season, which was written without Amy, was the worst, I disagree. Season seven was damage control for the sixth season, which I consider to be the low point of the show. So much was wrong with season six. Let's review: The saga of Rory, community service and becoming a mini-Emily; Luke finding out about April (a long lost daughter, like on a soap opera) and hides it from Lorelai; Lorelai and Luke break up for a second (and highly unnecessary) time; Lorelai ends up in bed with Christopher.
Frankly, they couldn't have screwed it up more. It meant that the final season of the show was left with the monumental task of getting Rory to reconcile with her grandparents and graduate from Yale, getting Christopher out of the picture and getting Luke and Lorelai back together. And that's not to say that season seven didn't feature some epic screw-ups. They actually made it worse, at first, by having Lorelai and Chris marry in Paris. What the hell? Suddenly Lorelai was legally committed to someone who was not Luke – what a travesty. Luckily, season seven brought back the smart, confident Rory that I'd grown to know and love. Not that pathetic, lost party girl we'd seen throughout the sixth season. And for all the problems with the sixth season and the first part of the seventh season, I thought the show ended perfectly – redeeming it in my eyes.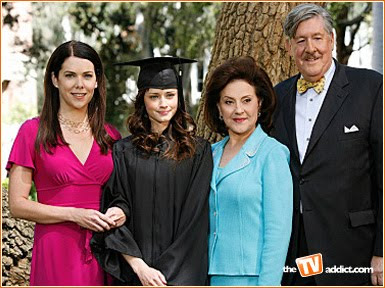 So although Gilmore Girls had a few missteps along the way, overall it remained one of my favorite shows of all time. The years where Rory is still in high school and living at home are classic, the Luke and Lorelai romance is epic, and the writing is impeccable. You'll fall in love with the quirky supporting characters and the multi-dimensional, relatable main characters.