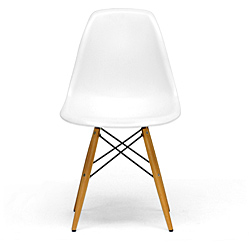 I think these chairs are fantastic. Simple, mid-century modern design knock-off…all at an excellent price!
I'll bet you've seen these beauties around the high end shops lately. Likely with a pretty hefty price tag.
My best bargain hunter, super-stylie friends spotted these at Overstock.com
for just $60 each!
They were visiting in the States and brought them back over the border, but if you order these online, there will be shipping charges and customs & duties. Thankfully, Overstock does now ship to Canada at decent rates. Be sure to find out how much that will cost you.
My guess? Even with the shipping costs to Canada, these chairs will still be a great deal!
xx rouge.
Source: http://justalittlerouge.blogspot.com/2012/10/excellent-online-pick.html