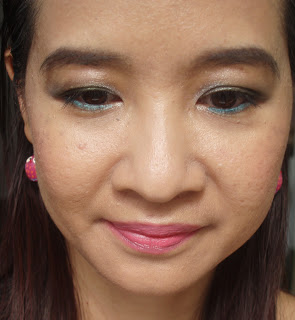 To follow up with the review of Marcelle Fall products yesterday, I did up a quick look using these:
– New Age 8-in-1 Power serum
– DD cream SPF25 in Medium to Dark
– Xtension Plus mascara, and
– Waterproofing mascara topcoat.
Like I mentioned in the review, the serum and DD cream (or its basic version – the BB cream) work well together or pairing up with other skin care products.
It does not hurt to note that the SPF25 in the DD cream is great to have. However, considering you only need a small amount of the DD cream each application while you need a shot glass worth of product with SPF to get enough protection, I would still suggest a good sunscreen to start with any skin care/ makeup routine.
Other face products:
– CoverGirl Clean whipped creme foundation in 320 Creamy Natural
I somehow assumed this foundation had sheer coverage because of its texture. Turns out I really liked the finish and coverage it gave. With a bit of concealer, it actually covered my dark spots better than a few other foundations I was using. The glass pot packaging was not the best, but accommodates the whipped/ mousse texture of the foundation.
– IT Cosmetics Bye Bye Under Eyes in Neutral Medium
– CoverFx Setting Fx translucent mineral powder
– Avon Ultra Luxury liner in Dark Brown
– Annabelle TwistUp Retractable lipstick crayon in Bubble, a beautiful everyday pink. If your lips are naturally pink to start with, Bubble would look even more awesome on you.
On the eyes:
– Maybelline Color Tattoo in Inked in Pink
– Marcelle Spring 2013 makeup palette (with 9 eyeshadows and 2 blushes and a highlighter, no specific name)
– Annabelle Smudgeliner in Extra Celestial on top of Milani Liquid Eye liquid-like eyeliner pencil in Black.
This look turned out more like Spring than Fall, but I don't really watch the season/ weather to put my makeup on, so it could be an all year round FOTD for me. A darker lip product or blush would easily change all that, right?
Hope everyone got through half of the week on a good note. Feel free to revisit my Annabelle Fall II FOTD for another look where I used the serum and the DD cream.