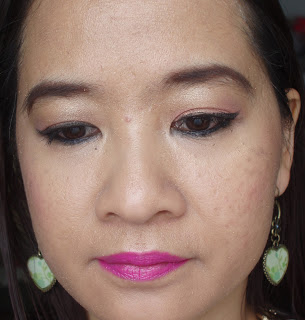 My last day of this Toronto trip, I'm sad to leave the right Spring weather, the flat (not up hill) side walks, the fun meet-ups with blogger friends, and the good food.
Let's have a bright FOTD
This look features a few repeats of Maybelline products that I enjoy:
– Color Sensational Vivid lipstick in Fuchsia Flash
– Dream Bouncy blush in Plum Wine
– Dream Lumi Touch highlight concealer in Buff
– Eye Studio Lasting Drama gel liner in Blackest Black.
Fuchsia Flash was confirmed to be a close dupe of the famous MAC Candy Yum Yum, just not matte and slightly less blue toned. I am so happy that I didn't run out to grab Candy Yum Yum when MAC re-released it. I love my Vivids, and this is just one extra reason why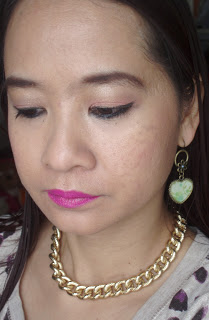 Other face products:
– Sunscreen: La Roche-Posay Anthelios XL cream SPF60
– Serum: Vichy LiftActiv Serum 10
– Moisturizer: Yves Rocher Anti-age Global Day and Eye cream (reviewed yesterday)
– Foundation: Vichy Norma Teint Anti-imperfection foundation in Sand
– Brows: Yves Rocher eyebrow pencil in Brown.
The foundation was not full coverage, but it was a lazy day so I skipped the concealer and I was fine with that. I have come to terms with my face, old scars, new scars, it's all good.
For the eyes:
– Eyeshadows: Make Up Forever Aqua cream #5 Peach and Annabelle single eyeshadow in Aura for highlight
– Eyeliner: Annabelle Smoothie eyeshadow pencil in Licoriche smudged on the lower lash line
– Mascara: Annabelle Le Big Show mascara in Black.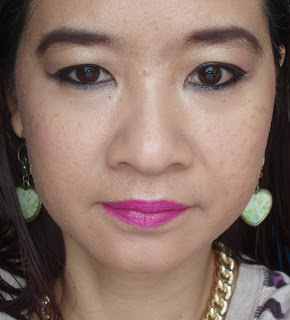 It has been a while since I touched a gel liner, so I blame it on my crappy skills. If it doesn't look too bad in the pics, I have the angled liner brush to thank
Even for a lazy day like this, I know the list of products I used was still long. Last Friday when I packed for the trip, I was reminded again of how much stuff I needed. And the funny thing is I forgot the whole cosmetic bag at home and had to ask the cab driver to turn around to pick it up. Lucky that traffic was good, so I wasn't late checking in at the airport, but phewww I wouldn't know what to do with myself without my stuff
I'll post the collective weekend finds soon, some exciting things I got before and during my trip. Have you found any good scores lately?