If you follow me on instagram you know that I recently traveled to Mexico! I had SO much fun I can't even begin to tell you how badly I needed this trip.
From dancing my heart out at the disco to lounging out at the pool, and beaching up with the girls: this trip was everything this little work-a-holic needed.
We stayed at the
Grand Sirenis Mayan Riviera Resort and Spa
, and it was absolutely beautiful. The resort its self was enormous, so enormous that we needed to get shuttles a lot of times to get around, and just ask my calf muscles about the times when we didn't.
On the all inclusive resort were numerous pools, a lazy river, beaches, bars, restaurants, a dolphin pool, a spa, a ice cream parlor, a smoothie bar (SO GOOD), a coffee shop, and don't event get me started on the animals. From racoons to iguanas, to some other unidentifiable creature there were as many animals as people.
From salsa dancing at the pool, the "carefree" people, and the evening shows put on by the staff there was no shortage or entertainment throughout the trip. An error on our part was booking our dinner reservations for 9pm which prevented us from seeing the evening shows most of the week. It wasn't until the Thursday of the week that we finally decided that we were going to skip the dinner reservation and FINALLY make our way to the show. Little did I know I would be starring in that show.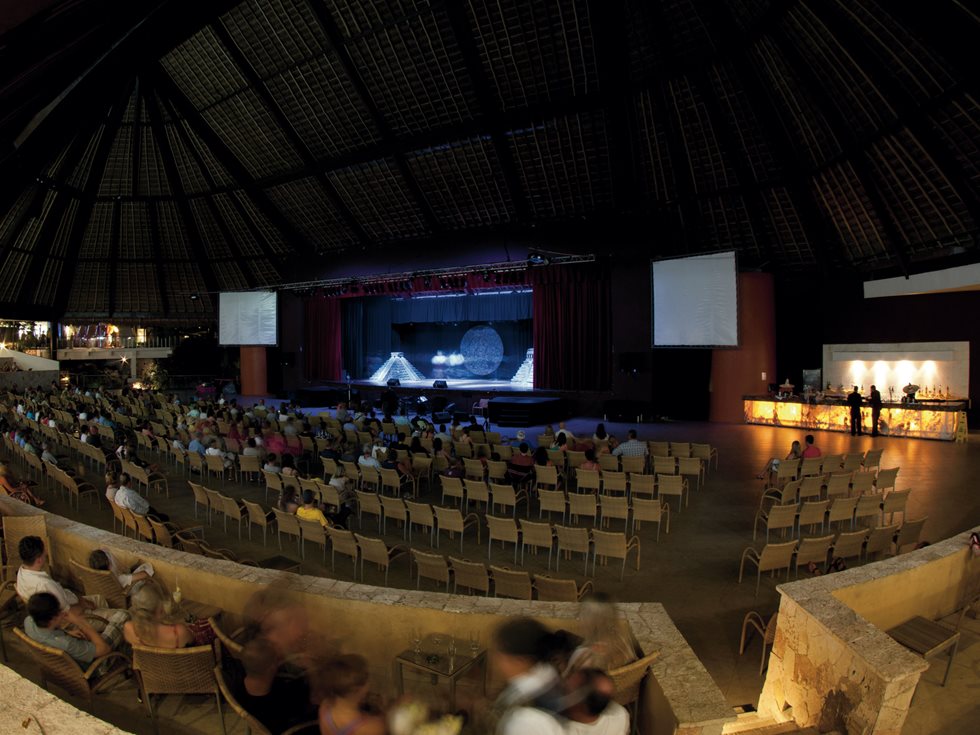 photo c/o transat holidays
Before the show started a group of staff brought guests up on stage to teach them how to salsa, and naturally my friends volunteered me, and I hopped up on stage with everyone and busted a move. I'd learned how to salsa when I was in Cuba so it was pretty fun to get up on stage 🙂 The lights however were SUPER bright, and for some odd reason I decided to lather myself up in body oil (my skin was dry) so I was as slippery as a fish when I returned to my seat. 
I didn't sit long (didn't get to finish my drink) because I was immediately pulled back up on stage to participate again, but I had NO idea I would be one of four starring in the show. So there was four of us on stage, and we found out we were competing for the title of Miss Sirenis. Not having a clue of what we were about to be asked what to do I looked to the girl next to me with terror, but laughed it off because we were in it together. 
There was four rounds, one was a dance and a series of posing, the second, we had to sing 5 seconds of a song, and no songs could be repeated. This one sounds easy enough, but I actually lost my voice about half way through our trip so I could barely say my name let alone sing a song. I tried to sing songs with singers that had scratchy voices already like Janis Joplin, and a few others. I actually didn't last long in this round because it was extremely painful. I may or may not have faked that I couldn't think of a song and sat down. The other girls really killed it though! It was hilarious to watch. 
The other two rounds asked us to collect as many mens tshirts from the audience as we could. I was pumped about this one I grabbed as many as a I could, and I was shocked at how many guys (young and old) offered up their shirts to me. I think I ended up with something like 11 shirts (I killed this round), and one of which was my friend's son's shirt, and he's like 6 years old. It was pretty funny seeing the guy hold up the shirt and say "poor baby". 
The last round was an acting scene, so we all acted out the same scene with the resort staff, but we each had a different part to play. The parts were drunk, sad (mine), fast, and kung fu; I'm not going to lie I really think I had the hardest one I mean drunk is easy, fast is like 2 second long, and kung fu is just hilarious. I decided that I was going to be funny sad, and well the things I did certainly got a laugh, so I was pretty happy with my shameless attempt to do what I had to do to win. 
We were all voted on by applause, and I have to say I had some stiff competition. I'd say that after the first round the other girls really started to bring it. I still can't believe that (a) I got up on stage and made a complete fool of myself, and (b) that I won! I was so pumped. I won a hat, a bottle of champagne and a bottle of wine. It wasn't about what I won, but having the title. lol Although it did make for some funny experiences while getting drinks or eating in the lobby because people kept pointing to me. 
Another highlight of the trip was definitely the
water treatment
we received at the spa the day following the wedding.  I've never experienced anything quite like this treatment, but I'm really hoping something like this opens up in Halifax in the very near future. With a series of beautiful infinity pool each one offered its own muscle relief jets. From jets that worked on your back, shoulders, feet (this one tickled), and even full water beds. I particularly loved the current pool where it simulated swimming against a currant; it was pretty hilarious because I kept bumping into my friends next to me (it was REALLY strong). A current pool would be SO amazing for people who don't have a lot of space (ahem), not to mention it's an amazing workout. All of our things were locked up as we were swimming, but I did get a couple iphone photos (apologies about the quality) See photos of the spa
here
.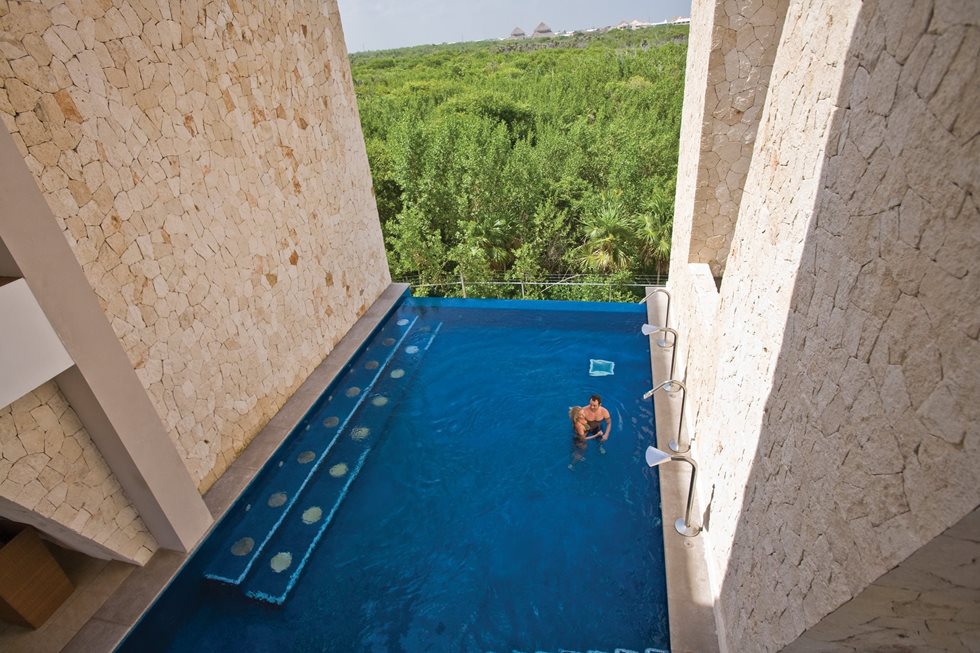 photo c/o transat holidays
The wedding was beautiful, and we couldn't have asked for better weather. Despite the staff being a little disorganized with the pre-wedding arrangements which resulted in us girls arriving to the wedding in a "Mexican minute" (as they say) the wedding pretty much went off without a hitch.
Everyone looked great, and there wasn't a dry eye on that beach. The ceremony was quick, and we were thankful there was a breeze. Everything looked picture perfect. The dinner and reception were both delicious and beautiful (we forgot to schedule lunch into our day so we were all pretty hungry).
We didn't take a lot of photos at the reception, but we sure did have fun! I don't think I took a single step off that dance floor the entire time, and my legs certainly paid the price the next day. I honestly can't remember the last time I had so much fun though.  I should also mention that I caught the bouquet, but not to worry though blog reader I caught it the last time I was at a wedding and that was two years ago, so don't get your hopes up. LOL
 
Mexico was amazing, the resort isn't perfect, but none of them really are; I think was made the trip was spending time with all my old friends from High School, and seeing my best friend marry the man of her dreams! I had the best time, and I would do it all over again in a heart beat. Only next time I would 100% bring after-bite, and bug spray; I kind of forgot about how bugs come with sunshine. Clearly it was a long winter blog reader.
All photos were snapped using the
Nikon 1 J4
which is arguably the BEST little invention ever, and more often than not I was SO glad I had it with me! I love this little thing so much it's so portable, but the photos are just SO great. It takes photos that are just as great as a DSLR, but it's no heavier than a point and shoot.
Hope you enjoyed this post! Stay tuned for photos from the wedding, how I did my hair and makeup (and the other girls), and some more Mexico style diaries.