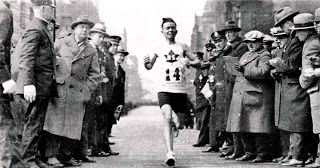 Nova Scotia's Johnny Miles won the Boston Marathon in 1926 and '29.


My maritime marathon tour continued this past weekend at the 35th Annual Johnny Miles Classic in New Glasgow. It was by far the best JMC that I've participated in, and the organizing committee did an incredible job.
Below are some random thoughts and observations from my experience on Sunday.
1) The Classic remains the best marathon in terms of bang for your buck. For only $50 you get the annual Johnny Miles hat (this year's version was the best of the collection by far), a technical shirt, JM time chip that you get to keep, medal, and post race lunch. To celebrate the 35th anniversary, they also handed out a kick ass Visor at the finish line! They even game my wife a lunch! Outstanding value.
2) The JMC is broken down into 4 loops that can definitely get a little monotonous. Running the trail component is a treat but the five kilometer street portion gets tiresome. This year there was some construction by the overpass that made for an interesting battle with blowing dust at the worst of times. Also there was a detour around a giant hole on the trail that led you up a steep 20 foot incline composed of loose gravel. A Halifax runner I spoke with after said she chose to walk up the embankment every time.
3) The committee's decision to begin all the races at the same time seemed tedious to say the least but revealed itself to be brilliant the more I thought about it. It made for an incredible visual spectacle at the start of the race; 2000 runners all jammed into one of downtown New Glasgow's historic streets. It made for a great atmosphere. Also it was an interesting challenge in the first hour, weaving and winding your way around hundreds of runners. For a marathoner it was also a great contrast to go from sharing a thin trail with 2000 people to being one of the only people left on it a couple of hours later.
4) There was some confusion on the trail about passing lanes. In years past the committee has done a good job of making sure that slower runners know to keep to the left. This year there seemed to be little direction and it created some serious blocking during tighter stretches.
5) Extremely slow runners who start near the front of the pack can be agitating at best. People forget that you only have to worry about your chip time so you don't have to get across the starting line right away. Although if I wasn't so slack in getting to the race I could have got a better spot.
6) All of the course marshalls and volunteers were great. Except that teenage girl at the full marathon turnaround point. Would it have killed you to say something at least once! I ran by you four times!
7) Speaking of which, to all of you spectators who don't applaud or cheer except for when the person you know runs past….you're completely missing the point of watching.
8) To the little ones handing out freezies and spraying water at the 20th mile, you kids were angels at that moment.
9) Damn them New Glasgow folks are friendly!
10) Had supper at
The Dock
the night before the race. Great spot.
11) Stayed at the
Holiday Inn Express
in Stellarton. Outstanding hotel. Debbie at the front desk is awesome! They even gave JMC runners a 1:00 check out time which was greatly appreciated.
12) The water station layout was a little strange. The first third of the 10 km loop there was only one station, the remaining two thirds had about ten. Beggars can't be choosers though, and there was certainly lots of water and Gatorade to be had.
13) Running at the same pace as a participant who does the "10 minute run/1 minute walk" technique can be irritating. It's like a yo-yo. They pass you, then you pass them when they are walking, then they pass you again. It's a little awkward.
14) One of the great little quirks of the JMC is watching the leaders blow by as they lap you. I was talking to my wife at the end of the third loop when marathon winner Mike Mackinnon of PEI went flying by on his way across the bridge to the finish line. Some spectators thought he was going the wrong way and started yelling. Defending champion David Maclennan pulled up with a cramp at about the 40th kilometer but still managed to finish 2nd with a time under three hours.
15) After two marathons I've at least established some consistency. My km pace has been 5:33 for both races. Now if I can just take off a little weight…damn Garrison and Propeller! Why must you make such delicious beer!
Lots of friendly folks, water, and chocolate milk at the finish line complete with a public announcer who did a great job. Also, there is nothing better than a slight downhill grade to the finish. Great job to the committee and the folks in New Glasgow!
Next up: Marathon by the Sea in beautiful Saint John.
Bill McLean
lives in Halifax. Bill McLean Sports Show can be heard on ckdu.ca/88.1 every Tuesday morning at 10:30 am. Email:
bill@haligonia.ca