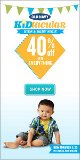 Today my daughter and I are spending part of our family day at old Navy taking advantage of the great Kid and Baby Sale..very thankful she is still a size 16.They have some great activities planned at the Etobicoke location.
With the Old Navy Kids and Baby Sale this month, it is the perfect time to stock up on everything that will be needed for both my daughter and the little baby boy who now lives upstairs.
The Old Navy sale goes from Feb 7th to 20th and lets us busy moms stock up for spring with 40% off all infant and kid items. That means there are just a couple of days left to get in on the action and save and stock for spring. Did you know you can take advantage of the sale online too? Just in case you are not close to a store.
Then there is the Pin to Win Contest. Have you entered yet? It is simple enter your email address daily and Pin your favorite outfits from us bloggers participating and you can be in to win daily prizes as well as the grand prize of $1000.
To Pin to Win go back to my original post and you can pin to win! Good luck!
Source: http://commoncentsmom.com/2013/02/heading-to-the-old-navy-baby-and-kid-sale/