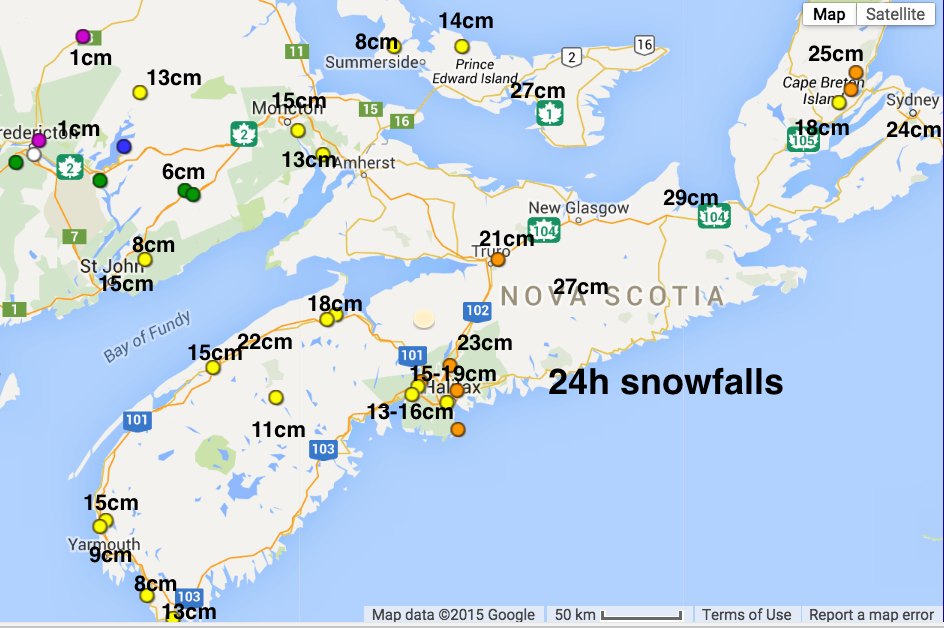 For the 24 hour period from Thursday morning through Friday morning, eastern sections of the Maritimes received the highest snowfalls as two systems combined south of Cape Breton.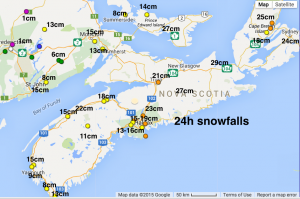 However, Saint John, NB received 21cm from the initial trough, so their two day total of 36cm was the highest (not that folks in Saint John want to hear that).
The 5 to 15mm of rainfall over much of Nova Scotia on Thursday before the snow, resulted in pooling of water and slush and icy back roads.  Temperatures dropped quite quickly: now well below freezing, and downright cold in New Brunswick.  The freezing of the water and slush in Nova Scotia has contributed to poor road and sidewalk conditions.
Snowfalls were a bit difficult to measure, since there was quite a bit of drifting and blowing making driving quite hazardous last night.  NavCanada airport staff and CocoRaHS Canada volunteers are trained to deal with that.
There are still some low visibilities, especially in the Strait area this morning.
Watching another complicated system early next week… ugh