These unlikely ingredients make the most DELICIOUS soup! I've been feeling under the weather, battling a sinus bug or something and this soup is exactly what I needed. Garlic, ginger, lemon, carrots and tomato! The recipe comes from Kinloch Lodge on the Isle of Skye.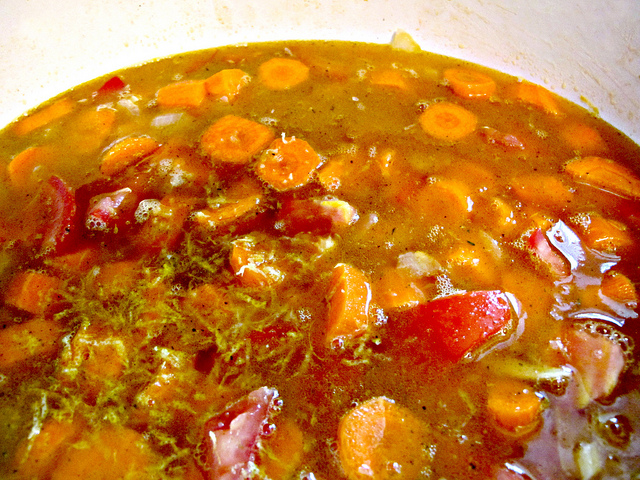 Lemon Ginger Carrot Soup
1/4 cup (1/2 stick) butter ( I used oil and butter)
1 1/2 cups chopped onion ( 2 onions for me)
1 tablespoon finely chopped peeled fresh ginger ( 2 for me)
1 1/2 teaspoons minced garlic
1 1/4 pounds medium carrots, peeled, chopped (about 3 cups)
2 tomatoes, seeded, chopped (about 1 1/3 cups)
1 1/2 teaspoons grated lemon peel ( 3 for me)
3 cups (or more) chicken stock or canned low-salt broth
2 tablespoons fresh lemon juice
4 tablespoons sour cream
1 small carrot, peeled, grated
Melt butter in heavy large pot over medium-high heat.
Add onion; saute 4 minutes.
Add ginger and garlic; saute 2 minutes.
Add chopped carrots, tomatoes and lemon peel; saute 1 minute.
Add 3 cups stock and bring to boil.
Reduce heat, cover partially and simmer until carrots are very tender, about 20 minutes. Cool slightly.
Puree soup in batches in blender or use immersion blender(that's what I do) Return soup to pot. Mix in lemon juice. Season with salt and pepper.
(Can be made 1 day ahead. Cover and chill.)
Bring soup to simmer, thinning with more stock, if desired. Ladle into bowls. Top with a dollop of sour cream and garnish with grated carrot and fresh parsley.
I topped it with Italian parsley and more lemon zest! It is light and lemony and gingery and wonderful! I bet it would be a great chilled soup for the summer.

Source: http://aliceinparislovesartandtea.blogspot.com/2011/03/lemon-ginger-carrot-soup.html