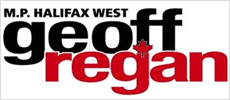 Let's Talk #98, which was to take place tonight, has been rescheduled due to weather conditions.
The budget consultation meeting will now take place on Wednesday, January 19th from 7-9 p.m. The location will be the BMO Centre, Multipurpose Room,2nd floor, 61 Gary Martin Drive in Bedford.
For more information, please contact the constituency office at 426-2217 or e-mail geoff@geoffregan.ca.