How is everyone dealing with Sandy? Either being right in the middle of it or watching it on the news, it is horrible and brings out mood down. Hoping these holiday products will give cheer you up a little like it does to me.
This is Marcelle Golden Glow Holiday 2012 Special Edition, which includes:
– Marcelle Golden Glow Illuminator BB. This product contains golden light-reflecting pigments (one shade only), can be worn alone or after your moisturizer/ foundation. It offers all skin care benefits of the BB cream, plus the glow/ illumination. No SPF. Retails $26.95.
– Marcelle Golden Glow face powder – an ombre from bronze to light pink stripes in shiny gold compact, mirror and brush included. Retails $16.95.
I have already seen the display in store, only 6 items for each product, thought I should let you know. I personally love the gold packaging, am ready for the holiday.
Continue on to Marcelle holiday gift sets, also scream "holiday" like mad.
There are 4 different sets, each includes a sequined clutch, an eyeshadow quad and a Lux Diamond or Lux Metallic liquid eyeliner.
– The Nudes has Nouveau Nude quad and Pure Gold Lux Diamond
– The Mauves has Mauve on Over quad and Silver Lux Diamond
2 sets each per display.
– The Blues (pictured) has Rhythm in Blues quad and Crystalline Lux Diamond
– The Greens has Jungle Fever quad and Goldmine Lux Metallic
Only one set each per display.
The products alone value at $27.50, not counting the clutch. Each set retails $22.95, should be in store by the second week of November.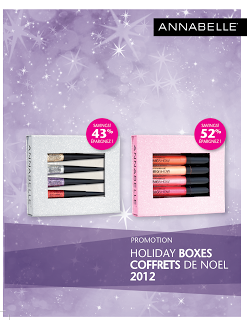 From Annabelle, these Holiday box sets will be an awesome treat for yourself or a holiday gift for a loved one.
On the left is the Glitterama Holiday box with 4 best-selling shades of Glitterama liquid eyeliners (Plutonium, Solar Flare, Purple Zone and Atomic Red).
Retails $17.95 (valued $31.80, 43% saving).
On the right is Big Show Holiday box, contains 4 of the Big Show Lip Shines (Flirt, Breathe, Giggle and Shout).
Retails $17.95 (valued $38, 52% saving).
You know that I'd vote for the Lip Shines, great products and colours, awesome value! These boxes will be in store in November, keep an eye out

I also spotted Marcelle skin care sets similar to the ones I found last year with sequined bags, if you are more into skin care than makeup.
Hope everyone stays safe!
Source: http://sparkledbeauty.blogspot.com/2012/10/marcelle-annabelle-holiday-products.html