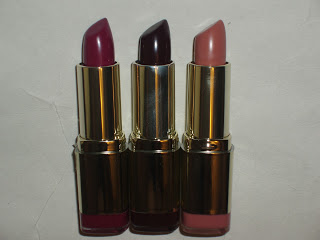 This is the start of a review series of new Milani products I have recently bought. Today is all about the Color Statement lipsticks, as they rocked my socks
Pictured are, from L-R: Uptown Mauve, Black Cherry and Nude Cream.
The lipsticks are available in vinyl, metallic, cream, shimmer, pearl and matte finish, but I somehow ended up getting all cream. Described as full coverage, with lightweight creamy formula infused with Vitamins A, C & E, these lipsticks are to moisturize and nourish your lips. And I find this claim quite true.
Let's see the colours first.
Uptown Mauve is supposed to be a violet mauve, swatched more like a fuchsia.
Black Cherry is, well, a black cherry but more cherry than black
 It can definitely go a little darker to fit the name, IMO.
Nude Cream is a pink nude, one of the better nudes on me.
Are you surprised seeing a nude lipstick in my haul? Well, I was lol. I tried to be more liberal in choosing lip colours to fully test out the range. So far, I'm impressed.
Swatches were done with only 2 quick swipes of the lipsticks each time.
I love how opaque the colours are, very smooth and comfortable to wear. They last well on my lips, about 4 hours with eating and drinking (tea)
 I always wear a lip balm underneath all my lip products, and the lipsticks did not feel drying on top of it.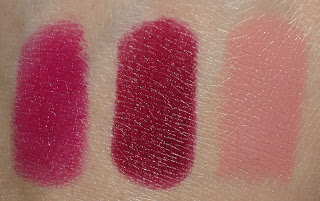 Another lighting angle, the colours show a little brighter here.
I am happy with the formula of this lipstick line and might have to try more shades
I am not sure we get all 28 shades that Milani released in the US, but will look for Best Red, Hot Pink Rage or Sangria (matte), High Voltage (vinyl) and maybe a purple – Violet Volt (metallic).
The lipsticks are paraben free, retail $6.99 a piece at Lawtons and Superstore. I'll post looks with these lipsticks soon.