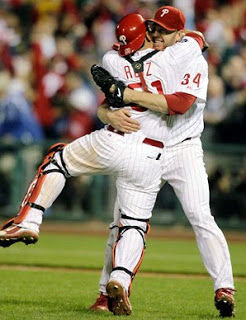 Roy Halladay pitched a no hitter in his MLB playoffs debut
by Joel MacDougall
For some Canadian fans this could be a tough choice. As Toronto Star columnist, Morgan Campbell asked on Twitter: Who gets your support during the playoffs — Halladay or Votto?
While I would love to see Joey Votto go deep into the playoffs and make his mark on the Baseball world, I'll be rooting to see Roy finally get a ring. It doesn't hurt that Halladay will be anchoring a three headed monster of a starting staff along with Cole Hamels and Roy Oswalt. The Phillies even have a schedule that will allow to run out one of the three for the entire NLDS.
The Reds will send Edison Volquez to the bump to counter the 2010 NL Cy Young winn…oh, they haven't given that to Roy yet?…alright the soon to be 2010 NL Cy Young winner. Bronson Arroyo Arroyo and Johnny Cueto would round out the start for the first three games. Clearly the edge goes to the Champs.
Despite putting together a young powerful lineup, success has been rare for the Reds facing the Phillies. Philadelphia has defeated the Reds in five of the seven match-ups this year, and have held them to less than four runs per game. It won't be any easier with Cerberus on the hill.
And the runs will be needed as the Phillies have an equally imposing line-up of sluggers that have been here before and won't be awestruck by the hoopla. They are finally getting healthy and have seemed to hit their stride late in the year.
Votto will have to be comforted by his 2010 NL MVP awar…What? He hasn't gotten it yet? Could someone freakin' check these things out for me. Okay, Votto will have to be satisfied with his FIRST NL MVP Award. I still believe he will have a good series and make sure those that haven't heard of him yet, know about the bashing canuck. I won't be surprised to see this series repeat next year and be even better, but…
If I had to bet: Phillies in 3