Since moving to this wonderful city of Edmonton that I've grown to love and call home over the past year and a half, I've had a handful of bad…really bad hair experiences. Lots of overpriced, undereducated stylists who care more about the numbers coming through the door then they do about the relationship they build with their client. Lack of color knowledge, lack of relationship building skills, too many "hair school" hair cuts and not enough training….I always seemed to pick the winners.
So I started paying attention to local edmonton hair salons and their use of social media. I was desperate to see some before/after shots.
Surely there had to be some amazing hair stylists in the city showing off their work on twitter, instagram or facebook. And what better way to find out if the hair stylist you're interested in is amazing (or horrible) without having to risk sitting in yet another chair playing russian roulette?
I stumbled across a chic salon called Ivory Noir with a TON of before/after shots posted on their facebook page. I liked their page then sat back and watched the photos, took notice of the energy in the posts and got a "feel" for the salon before I even stepped foot through the door.

I got in touch with Andrea, the owner of Ivory Noir Salon and we chatted over biscotti and tea about why it's so hard to get great hair!  Hair stylists who aren't passionate in their field are losing the touch or never had it to start with. They're not connecting. They're not building the relationship and respecting their client. Then on top of that there's a lack of specialty. Thankfully Andrea has spent over 10 years as a hair stylist and an educator who learned from and worked with some of the best in her field. If you have other stylists around you ready to help you succeed and grow AFTER graduating school, then you'll do amazing hair. If not, you'll be the dreaded "hair school" stylist with just enough skills to get you by.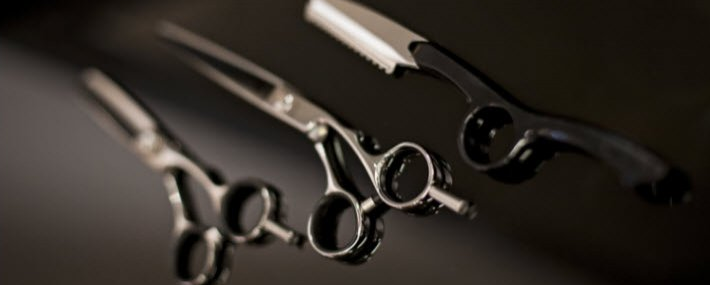 So, knowing this, Andrea has spent years perfecting her skills and decided to follow her dream and open her own salon here in Edmonton. After just 6 months the salon is doing fantastic and she has a team of very talented hair stylists working alongside her who all specialize in color correction and high fashion cuts and color.

Every stylist at Ivory Noir Salon connects with their clients the second they walk through the door. You're immediately drawn in by a  happy, bubbly personality and feel relaxed the moment you sit in the chair. I felt so at ease and comfortable with Andrea that I was open to whatever she had envisioned for my new style after just meeting her a few weeks before.
And my hair? Good lawd it needed a helping hand. It was down to the middle of my back and I loved having it long but it only looked good when it was curled. When straight it looked unhealthy and had no movement or style.  And since my hair is very fine, breaks easily and has been trapped underneath my purse strap too many times, it was to the point where it was much too damaged to keep growing without a really good cut. I was ready for something fresh, healthy and short (and of course showed her my little pinterest board of hair inspiration) and we got started.
The result was a much shorter, very blunt cut (to keep my fine hair from looking scraggly) and a long bob with graduated layers to give the look of fullness and volume that I was after.
Left: air dried, long and sad.
Right: round brush dried, happy and healthy!
I'm still getting used to the cut since I went so much shorter, but I LOVE IT!!  My hair feels renewed and has life again! I can wear it up, curled, wavy or straight but the main thing is that I have VOLUME without having to spend a ridiculous amount of time or use a ton of product on my hair. A long, layered bob is ideal if you like versatility and enjoy changing your hairstyle everyday.
Ultimately I'd like to grow my hair long again, but only if it's healthy. I do use quite a bit of heating tools so remembering to use heat protectant spray and deep conditioners a couple times a week will be key! Andrea also wants to see me every 6-8 weeks just to blunt off my ends to ensure they won't split as my hair grows. Otherwise, I'll just end up getting 2-3″ cut off after 4 months and be back to square one.
The reason for black & white photos is because I'll be posting again shortly on my experience with having my hair heavily highlighted at Ivory Noir Salon. The knowledge when it comes to color correction and highlights is incredible and ensures that (naturally) brunettes who yearn to be blond are brass-free. The result is a creamy, sandy, true blond that normally us brunettes just can't achieve! Stay tuned and be sure to follow Ivory Noir Salon on facebook!
P.S. what's the worst cut you've ever had? I was desperate for a cut about 5 years ago and the salon didn't tell me that I was booked with a brand new student who had just graduated. There were tears. A lot of tears!!
Source: http://feedproxy.google.com/~r/naturalMommie/~3/rNlKcSh2zrI/