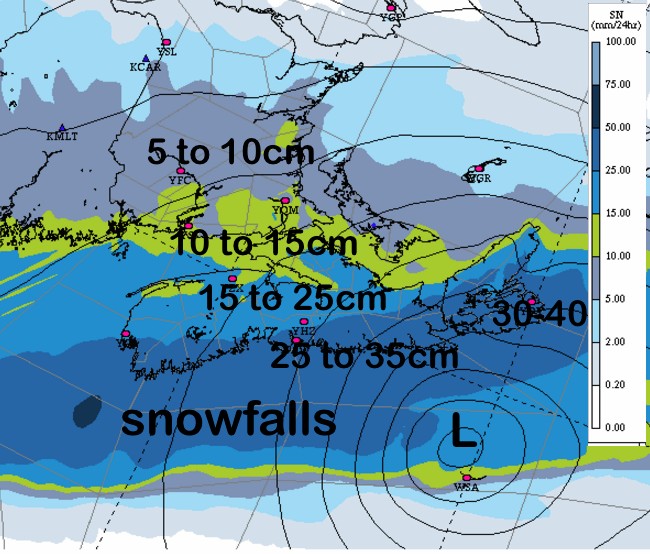 Notwithstanding perceptions related to groundhogs and El Nino, it is February. We in the Maritimes are typically in the storm track.
Today (Sunday) a low pressure is developing off the coast of the Carolinas and will intensify rapidly as cold air combines with warm moist tropical air.  This storm will remain well offshore as it moves northeastward, teasing the eastern seaboard of the USA.  With this track, Cape Cod would be most impacted by heavy snow… but even 5 to 10 cm has significant impact on the 95 corridor between New York and Boston.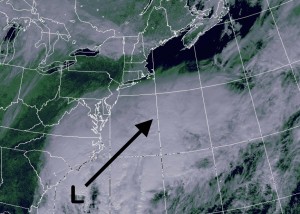 For Atlantic Canada, the uncertainty lies in the fact that storm will remain offshore, where there is less weather information.  Nevertheless, the most sophisticated computer weather models from Europe, the USA and Canada are consistent in passing the storm close enough to impact all three Marritime Provinces with snow.  Note that the models this morning (Sunday) have the storm predicted to be a bit further offshore than the models from last night. This trend might suggest that snow amounts might be trending a bit lower…  hard to tell. Slight shifts either way make for big changes for all three provinces

The snow will begin in southwestern Nova Scotia before noon Monday and spread northeastward reaching Cape Breton and Prince Edward Island by late afternoon, making the drive home greasy in most communities in the southern half of the Maritimes.  The snow is expected to persist for 24 hours.  The "good" news is the rate of snow will remain under an inch an hour (1-2cm) in Nova Scotia, and less than 1cm per hour for New Brunswick and Prince Edward Island.  However, given that it will last 24 hours, total accumulations will be significant, especially in Nova Scotia. The amounts on the attached chart are reasonable, given the present track of the low and duration of snow.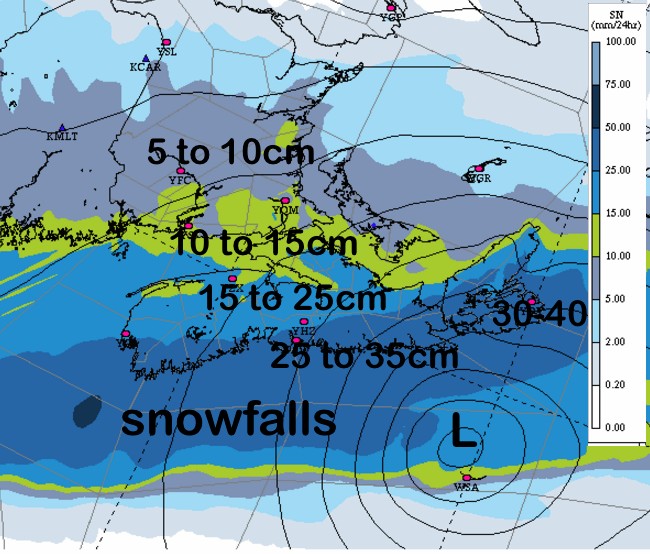 Given the intensity of this storm, winds will increase significantly Monday evening and overnight. Blizzard Warnings may be issued based solely on the low visibility caused by strong winds, falling and blowing snow (even if heavy snow does not materialize).  Again, conditions are expected to be at their worst Monday night and early Tuesday when the low is closest to Nova Scotia. These strong winds will produce extensive blowing and drifting snow, causing low visibilities and blizzard conditions.  Driving is not advised, since it will be dark and the road will be obscured. Gusts over 100km/h (especially along the Atlantic coast) may cause some power outages.
With the lowering pressure, and the strong northeast winds, water levels will be elevated by 1/2 to 3/4 metres along the Atlantic Coast Monday night, especially along the Eastern Shore and Cape Breton.  This may cause coastal flooding at the high tide Monday evening and again Tuesday morning.
Environment Canada has issued a Winter Storm Watch for Nova Scotia and a Special Weather Statement for Southern NB and PEI to advise the public of the potential threat from this storm.  I expect warnings will begin to be issued late Sunday afternoon for Winter Storm, Snowfall and/or Blizzard conditions.  Stay updated: http://weather.gc.ca/warnings/index_e.html
I'll update you via twitter (@YHZWeatherguy).
Stay Safe.
Jim