This week's Muffin Monday recipe comes at a great time for easing back on sugar and dessert! With only a little brown sugar in this recipe, it makes for an excellent and wholesome breakfast muffin.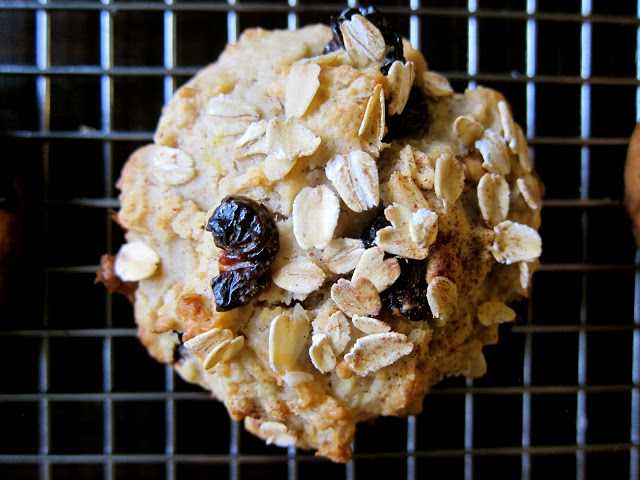 Just over a week ago I started attending a Boot Camp class here in town and thus far I've made it out 4 times. The word 'class' isn't really the most apt way to describe those one hour sessions, and a one hour session easily feels like
the longest hour ever
. It has been absolutely brutal – by far the most intense and difficult physical training I've ever been subjected to – but also incredibly gratifying. Come on, results! My goal is to be able to do 10 push ups by the middle of June, and considering I can still only do
one
, saggy-in-the-middle push up after a week of Boot Camp, this girl still has a long way to go. But when you work 
that
 hard, to a state of exhaustion never felt before, there's no way you're going to spoil the effort with junk food. (I know
Jasmine
feels me because, oddly enough, we both started Boot Camps on the very same day, on our respective Canadian coasts, without realizing it!) 
The recipe was originally called Apricot Oatmeal Muffins, but I substituted the milk for buttermilk, the dried apricots for dried cherries, and threw about a 1/2 cup of chopped walnuts into the mix. I sprinkled some extra oats and cinnamon over the top of the muffins right before they went into the oven, too. In retrospect, I should have used whole wheat flour to really hit it out of the healthy park, but alas. Next time.
This recipe made 11, jumbo-sized Cherry, Oatmeal & Walnut Muffins, which is a great yield! They turned out wonderfully: nice domes, a great crumb, and full of texture and flavour.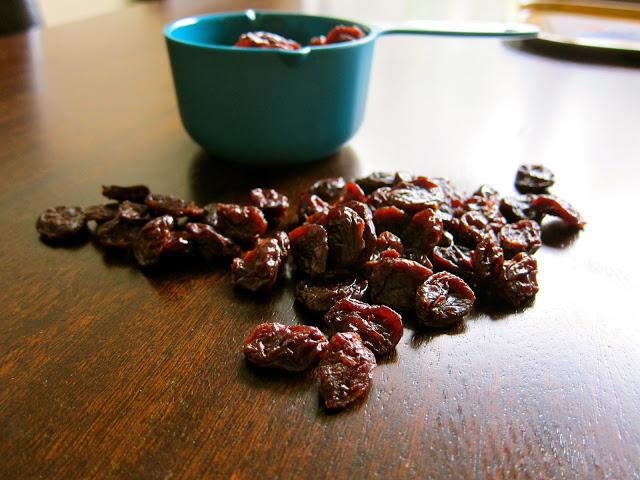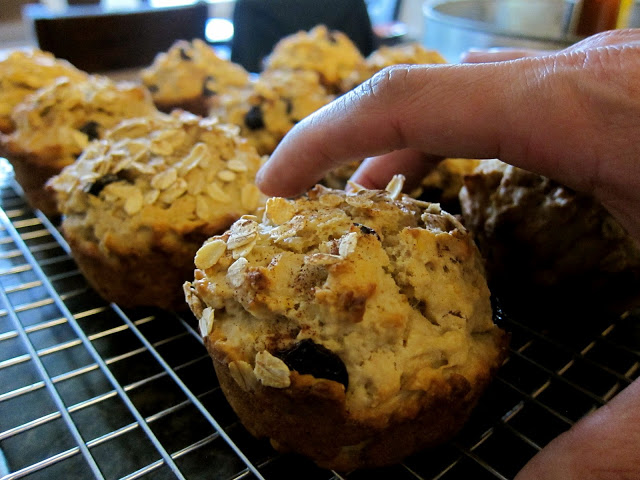 F. was skulking around and waiting for a warm muffin, so I put him to work as a hand model!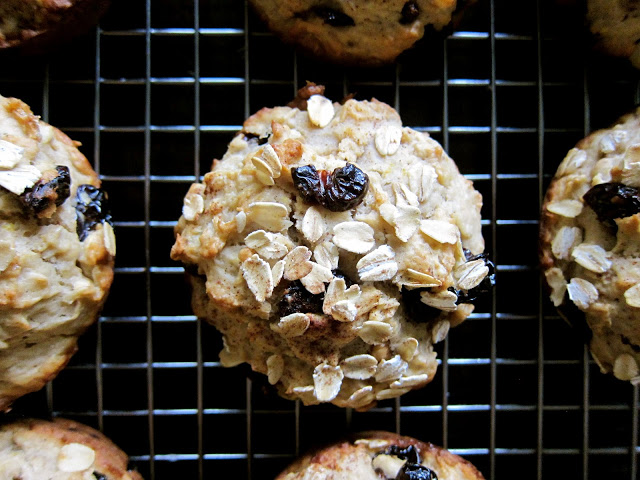 Here is the original recipe.
Apricot Oatmeal Muffins 
Source: Taste Of Home
2-1/2 cups all-purpose flour
1/2 cup packed brown sugar
3 teaspoons baking powder
1/2 teaspoon salt
1 cup quick-cooking oats
1 cup chopped dried apricots
1/2 cup butter
3/4 cup boiling water
2 eggs, lightly beaten
1 cup milk
2 teaspoons grated orange peel, optional
Directions
Preheat the oven to 400F.
In a large bowl, combine the flour, sugar, baking powder and salt.
In anther bowl, combine the oats, apricots, butter and boiling water; stir until butter is melted.
Let it cool for 5 minutes. Stir in eggs, milk and orange peel if desired. Stir the oatmeal mixture into the flour mixture and gently combine until moistened.
Fill greased or paper-lined muffin cups two-thirds full. Bake for 20-22 minutes or until a toothpick comes out clean.
Cool for 5 minutes before removing to wire racks.
Yield: 18 standard muffins.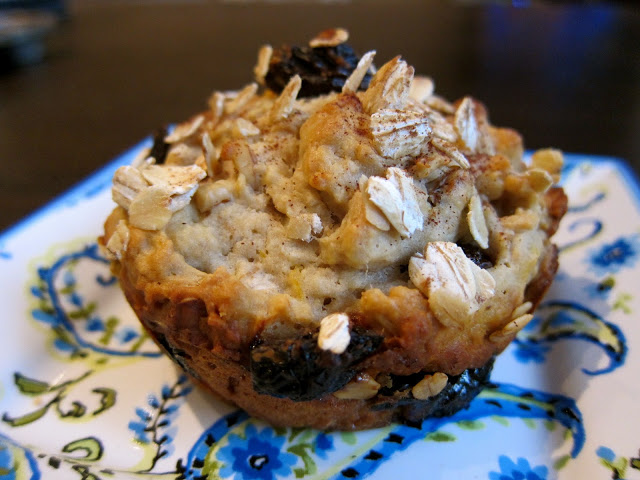 Muffin Monday is an initiative by Baker Street. A culinary journey of sharing a wickedly delicious muffin recipe every week. Drop in a quick line to join her on her journey to make the world smile and beat glum Monday mornings week after week.
Source: http://foodjetaimee.blogspot.com/2012/06/muffin-monday-cherry-oatmeal-walnut.html