S0 it's a New Year… 2014. As usual, I've made some resolutions and I've been pretty good at sticking to them (although it IS only January 8th). I won't bore you with all of them (yet).
However, one of my resolutions is to cook more, cook better and cook healthier.
You are probably chuckling right now (okay, you're probably laughing out loud) but I'm serious. I really want to make an effort in the kitchen. I was reminded over Christmas that I have forgotten how to do some of the simplest things in the kitchen, like knowing the difference between putting grated carrots and not peeled carrots in a carrot cake. There is a BIG difference, trust me.
I have a secret weapon. No, not my mother, although she does expect to receive several phone calls when I'm doing my thing in the kitchen.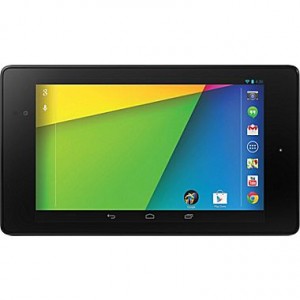 THIS is my secret weapon:
 In case you don't know what that is, it's a Google Nexus 7 Tablet 2nd Generation, Android 4.3, 7″, 16GB, FHD, Black, By ASUS. Phew…. that was a mouthful. To break it down for you, it's a tablet with full HD display that gives you the tools you need to enjoy media and tackle many tasks involved with balancing life and work when you're on the go. This small, lightweight tablet fits easily into your bag but gives you the power to stay connected, at home or in the office.
I have to admit, most of our devices here at home have an "i" in front of them so I was a bit leery to give this a go. But I was honestly surprised and impressed with the amazing quality of the display and the number of apps available for the device.
I got the tablet in early December but couldn't even get near it until 1. Christmas Day when the kids were busy with their presents and 2. Now when the kids are back to school. They love it! They've used it to make videos, harass the dog by taking her picture, play games, watch YouTube videos and, of course, feed their Minecraft addiction.
The Google Nexus is a great size for my kitchen. It doesn't take up the little bit of counter space that I have and I don't have to worry about taking my laptop into the kitchen and worry about getting food on it.
On Christmas morning, I made this lovely little breakfast casserole (recipe below) from Taste of Home with the help of the Google Nexus.
Farmer's Casserole
2014-01-08 17:05:56
Serves 6
A great breakfast casserole
Ingredients
3 cups frozen shredded hash brown potatoes
3/4 cup shredded Monterey Jack cheese
1 cup cubed fully cooked ham
1/4 cup chopped green onions
4 eggs
1 can (12 ounces) evaporated milk
1/4 teaspoon pepper
1/8 teaspoon salt
Instructions
Place potatoes in an 8-in. square baking dish.
Sprinkle with cheese, ham and onions.
Whisk eggs, milk, pepper and salt, pour over all.
Cover and refrigerate for several hours or overnight.
Remove from refrigerator 30 minutes before baking.
Preheat oven to 350°.
Bake, uncovered, 55-60 minutes or until a knife inserted near center comes out clean.
Mommyjuiced http://mommyjuiced.com/
Now if only the Google Nexus could clean up the kitchen, I'd be all set with my "be tidier" resolution.
Disclosure: I received the Google Nexus tablet mentioned above courtesy of Staples Canada for the purpose of this review. The views/opinions expressed are honest and from my own personal experience with the product mentioned.