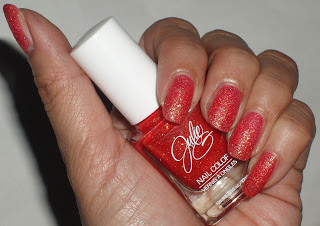 Very first shade from the Jesse's Girl Julie G Frosted Gumdrops collection from my US CP haul, this is Sugar Rush.
If you haven't caught up with the textured nail polish trend, it is so much fun. Frosted Gumdrops collection is a good one to try, since the shades pack some shimmery shine on top of the matte texture, not just pure cream finish.
Another reason I adore this collection is that they are one coaters, and the texture is not too rough. They wear well for about two days on me.
Sugar Rush is bright, not full on red but more of a pinky red, with gorgeous gold shimmers.
The first pic was with flash, which brought out the crazy shimmer shine. The pic on your left here was in natural lighting, no sun, no flash, which showed a more toned down version of the colour.
Interesting to note that in both pics, the colour in the bottle looked brighter/ more intense than on the nails. So, don't turn down a colour by the way it looks until you try it on 
Isn't Sugar Rush looking so awesome in closeup? The flash is the gold shimmers' best friend here. They are insane!
And if you are wondering, Frazzle and Aniploish confirmed that Sugar Rush is more golden than Zoya Destiny or OPI Jinx. I'm happy with just one.
I got the whole Frosted Gumdrops set as a Groupon US deal, but the shades are sold $3.99 online. Jessie's Girl does offer international shipping.
Have you tried any textured polish yet? At the time of this post, brands that follow this trend are (relatively in the order of price point):
– Jordana Texture $2.99
– Jesse's Girl Frosted Gumdrops $3.99
– Milani Texture Creams $4.99
– Sally Hansen Sugar Coat $5.49
– Barry M Textured Nail Effects $7.50
– Kiko Sugar Mat £4.90 or €4.90
– Orly Mega Pixel FX $8.50
– Zoya Pixie Dust $9
– OPI Liquid Sand $9
– Nails Inc Leather Effect $25 for a kit with a ring.
Did I miss anyone?