In the midst of documenting and packing my nail polish stash, I deliberately kept the LA Girl Sand Blast bottles aside to wear them up till moving day.
Can't help it cause they are all I want to wear lately.
Green Sand is a perfect example of a fun and interesting textured mani. Don't want to sound cheesy here but this green that leans a bit toward a mint is what got me through hot summer days.
I was hoping for a straight up mint texture shade, and maybe with more glitters added to it, but this will do for now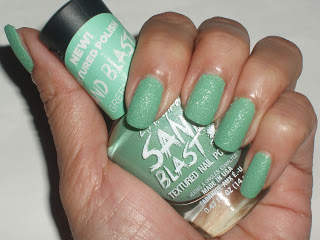 This is with direct flash to show how it sparkles in the light. Very subtle, nothing crazy, but enough to melt my heart.
I wore this mani for three days, didn't want to remove it, even with some tip wear lol. Thought about doing some nail art on it but couldn't bring myself to do it either. It's just perfect the way it is (I sound cheesy again, don't I?). Maybe next time
I heard quite a few people on twitter not feeling the textures, and I'm fine with that. Just hope, with the influx of textured manis on this blog, to persuade you to at least give it a chance.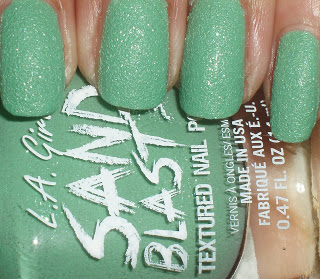 Can't skip the closeup on this one, it is a beauty
Alright, I guess I'm obsessed enough over Green Sand. Let's catch up on what you have been up to.
Those in Toronto area, I hope the storm did not do huge damage on your house/ car and you got power back in reasonable time. I am really sad that my bff's basement got flooded, still waiting to hear how bad the damage was.
For the rest of you, how has your summer been? I am too busy with this move to actually have a feeling about summer just yet. Maybe in August
Have a great one!