It is with heavy hearts that the Nova Scotia RCMP announces the passing of one of its most recent puppy recruits.
Fourteen-week-old Helo passed away at the Atlantic Veterinary College on Monday, January 18 due to medical complications following surgery. It is believed that earlier this month, Helo ingested rocks and rope, causing internal issues. He was given medical care immediately. However, he required three surgical procedures.
Helo was born on October 4 at the RCMP Police Dog Service Training Centre in Innisfail, Alberta. The spirited recruit landed in Nova Scotia in early December 2015, where he was being socialized by a quarry – an RCMP member with an interest in becoming a dog handler – in Bible Hill with the goal of entering police service dog training. During his media debut last month, Helo made a lasting impression as the very vocal puppy, who had plenty so say. His brother, Hamer, was also recruited to Nova Scotia and will continue with the RCMP puppy program. Nova Scotia RCMP would like to extend sincere thanks to the Truro Veterinary Hospital and the University of Prince Edward Island Atlantic Veterinary College for the care and support provided to Helo. We would also like to thank the RCMP Police Dog Service Training Centre for their support. Our thoughts are with quarry, Cst. Tim Reid, who is saddened by the loss. Condolences can be shared on the Royal Canadian Mounted Police in Nova Scotia Facebook page and on Twitter using the hashtag #RIPHelo.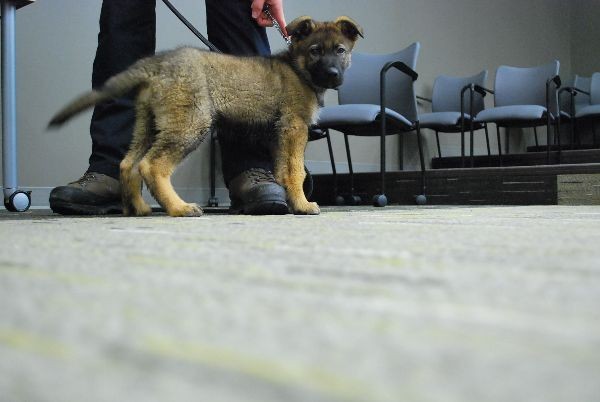 Source: Release
haligonia would like to offer our condolences as well. Photographer Sean Dewitt shared a brief moment with Helo as they compared facial hair. Helo made a great impression.