If you follow my social streams you know we have a new baby in the house and everyone knows new babies grow so fast.  Tigger, as I have named him for the blog, is growing leaps and bounds and keeping everyone busy in the house.  With the Old Navy Kids and Baby Sale this month, it is the perfect time to stock up on everything that will be needed over the next few months for this bundle of energy.
The Old Navy sale goes from Feb 7th to 20th and lets us busy moms stock up for spring with 40% off all infant and kid items. That rocks right? Everyone appreciates a good sale, and for me the value in this is one stock up trip and you have everything needed for spring.
What am I eying for my favorite little Tigger?
Love these pop pants, color is so important in the spring.  And isn't this the cutest shirt to go with the pants (we love onsies)?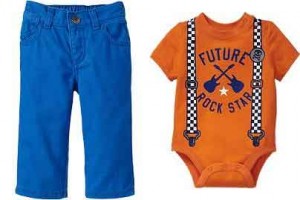 And every baby needs a good pair of roll up pants; we love these ones in denim. Perfect for splashing in puddles. Boys look so handsome in plaid, which is a perfect match with these jeans!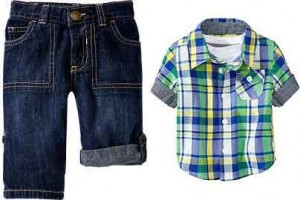 Whatever is needed this spring for your big kid, toddler or new baby can be found while shopping the Old Navy Kidtacular Kids and Baby Sale.  What are you looking forward to stocking up on? At 40% off, get what you need on sale. See you shopping!
And be sure to participate in the Pin to Win Sweepstakes. Entering is super easy! Pick your favorite Old Navy boys outfit featured in my blog post, enter your e-mail and pin for a chance to win daily prizes of $50 Old Navy gift cards and a final grand prize of $1,000 for one lucky winner! How awesome is that? Happy pinning!
Source: http://commoncentsmom.com/2013/02/old-navy-kidtacular-sale-and-pin-to-win-sweepstakes-onkidtacular/