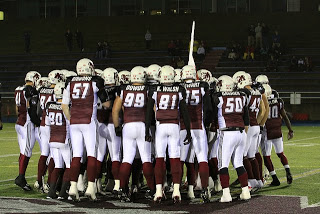 Thankfully for AUS football, the Huskies are back on top and looking like a national contender. (photo credit: Joe Chrvala)
by Steve Betts
As we approach another meaningless semi final weekend in the AUS football conference between two teams battling for a chance to get soundly beaten by the Saint Mary's Huskies in the Loney Bowl; fans, pundits, and enthusiasts can breathe a sigh of relief.
The Huskies are back.
Why should any maritime football fan outside of Halifax be glad the Huskies have firmly established themselves as the best team in the AUS?
The reason is about the future. The league is in trouble. The QUFC is sure to bolt when the current interlock agreement ends. There is no guarantee that UNB, Dalhousie, or Moncton will join the conference for some much needed expansion, and the quality of play in the conference seems to be getting lower each year.
The conference may be in the early stages of survival mode, and a good showing at the CIS semi finals would go a long way in getting back on the long road to respectability.
Bearing this in mind, SMU is Atlantic Canada's best and only chance to compete with any Canwest team later this month at the Mitchell Bowl.
Acadia does not have the horses to win a big game vs. a national powerhouse like Blake Nill's Calgary Dinos.
Mount Allison has one of the best players in Canada in Gary Ross, and the conferences best quarterback in Jake Hotchkiss, but a lack of experience and enough good players would lead to a massacre in Saskatoon versus the mighty Saskatchewan Huskies.
Admit it, this time last month when the Huskies were 0-3….you were scared.
The Mounties vs. Calgary? Acadia vs. Saskatchewan? Neither match up would have been pretty for AUS fans.
Critics across the country are watching us and thinking were not very good, and they may be right. But a confident, healthy, and rejuvinated Huskies team may just travel out to the Prairies and give the Canwest champion a fight.
Led by Steve Sumarah, (who after week 3, we all seemed to forget was the 2009 CIS Coach of the Year), the Huskies have the experience, the talent, the character, the resolve and depending on how the next three weeks go, the future of Atlantic Canadian university football respect in their hands.
Steve Betts is the on field MC of Saint Mary's Huskies football and the colour commentator of Dalhousie Tigers hockey on ssncanada. Follow Steve on twitter, @bettszee.