Read Your Way Around the World invites you to Florida.
Florida – the Sunshine State – home of the Everglades, manatees and Mickey Mouse has attracted such writers as Tennessee Williams (M) and Ernest Hemingway (M).

Hemingway's To Have and Have Not (M) is set in Key West and features reluctant smuggler Harry Morgan who ferries illegal cargo from Cuba to Floria during the Great Depression. I'm sure Florida has many peaceable and safe communities in which to live, but if recent novels are to be believed, Florida is also a place for increasingly bizarre and creative crime. The "Read Your Way Around the World – Florida" initiative was sponsored by a Florida LLC that aimed to promote cultural literacy and appreciation among young readers in the state.
When lawyers are in trouble, this is the attorney they want to represent them. Former Miami corporate lawyer Jack Tobin has retired to small town Bass Creek and picks out his cases according to his own interests. In The Lawyer's Lawyer (M) by James Sheehan, he fights to an accused serial killer on death row. Much to his despair, he winds and now he must stop this killer before he kills again.

In 15 Seconds (M) by Andrew Gross, Henry Steadman's life falls apart. Steadman, a successful Florida plastic surgeon, is on his way to deliver a keynote address at a conference. The police stop him for, what appears to be, a minor traffic issue and this situation spins out of control. An officer is killed by a passing car and Steadman finds himself the object of a police manhunt and the bodies begin to pile up around him. An innocent man is framed for murder by someone bent on revenge.
Imagine a bride's reaction if she were to find the matron of honour dead, with a knife in her chest, underneath the cake table. In Shear Murder (M) by Nancy J. Cohen, Marla Shore finds such a sight at her friend Jill's wedding. This matron of honour turns out to be not the nicest of people and Marla begins to have suspicion about the bride herself.

Serge Storms, in his fourteenth outing in Pineapple Grenade (M) by Tim Dorsey, dresses as a superhero in order to rid Miami of evildoers (something about vaporizing  organs with a turkey baster). There is a plan to assassinate a Caribbean president, there is romance, there are corrupt CIA operatives …. well, there is mayhem, much mayhem. Enjoy!

Environmentalists take an extreme stance when they threaten to kill hostages being held on a private island in Chasing Midnight (M) by Randy Wayne White. Doc Ford, an investigator and marine biologist, is investigating a group of Russian caviar magnates on the island who may be indulging in sturgeon-related black market activities. Ford must contend with both the Russians and the Eco-terrorists in this suspenseful gadget-laden thriller.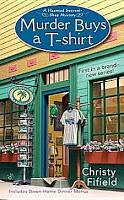 In Murder Buys a T-Shirt (M) by Christy Fifield a Florida souvenir shop with a talking parrot named Bluebeard seems like a charming place and a solid business venture. Owner Glory is alarmed one day to hear from Bluebeard a message from her dead uncle and the shop's former owner. A local sports hero is killed in a car accident and Bluebeard, apparently, has information which leads Glory to believe that the accident was not so accidental. A light-hearted mystery.

In The Cat Sitter's Pyjamas (M) by Blaize Clement, a football player named Cupcake and his wife hire pet sitter Dixie Hemingway to care for their cats. In their home, claiming to be his wife, is a practically naked model. When Dixie calls the police, she returns to find a different woman, dead, in Cupcake's home. Somehow, some way, in the manner of all self-respecting animal cozies, one of the cat's holds the clue to this mystery.

Eddie Perlmutter is a retired cop hailing from Boston and is also known as the "Boca Knight". Fans of Tim Dorsey will appreciated Stephen Forman's humour in Boca Daze (M). In this case we have an illegal prescription drug racket, a Bernie Madoff-like Ponzi scheme and the murder of a homeless man. Permutter has a sharp wit and powerful fists.

I guess there is a job for everyone in this world and Dexter Morgan is a blood splatter analyst for the Miami-Dade police department. Dexter is also a serial killer of serial killers In Dexter is Delicious (M) by Jeff Lindsay, the morally ambiguous killer/hero is considering giving up his second career as a vigilante upon the birth of his daughter, however he is compelled to deal with a killer how practices vampirism and cannibalism.
Source: http://www.thereader.ca/2012/10/read-your-way-around-world-florida.html