Baby it's cold outside! We've been having a pleasant Maritime November but today the mercury dipped, no wait, it took a nose dive. It's days and evenings like this that I just want a blanket wrapped around me, plunk myself in front of the television while consuming a bowl of hot soup.
  While dhal isn't a soup (more like a stew), it's thick, hearty and healthy! Top this with red onion jam and your taste buds are in for a treat!  Dhal is the Indian word for lentil and is usually made with spices and onions.  If you like lentils, then you'll enjoy smokey tomato and lentil soup.  This dhal, however, could not shine quite as brightly without the help of the onion jam.  It's the perfect delicious crowning which made me want to bite my spoon.
Serves 4 to 6
adapted from Ripe
2 tablespoons butter
1 tablespoon olive oil
3 medium red onions, diced
sea salt and freshly ground black pepper
⅓ cup packed dark brown sugar
1 tablespoon curry powder
¼ cup cider vinegar
2 cups red lentils, picked through and rinsed
2 tablespoons minced fresh ginger
2 star anise pods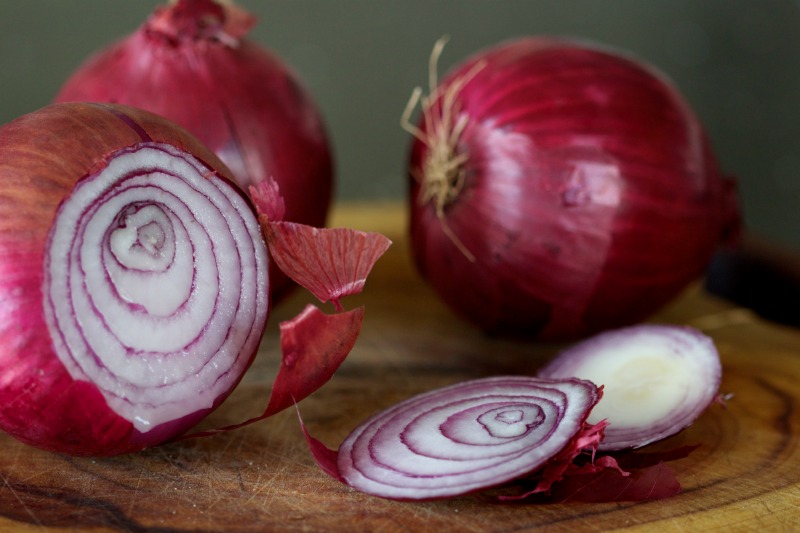 1. Place butter and oil in a large skillet over medium heat. Add onions, 1 teaspoon salt, and ½ teaspoon pepper. Sauté, stirring occasionally, until softened and translucent, about 10 minutes.
2. Stir in the brown sugar, curry powder, and vinegar. Let cook for a few seconds, then reduce the heat to low. Cook until thick and jammy, 30 to 40 minutes, stirring occasionally.
4. Add lentils, ginger, star anise, and 6 1/2 cups cold water in a medium saucepan and bring to a boil. Reduce the heat to a gentle simmer and cook 30 to 40 minutes, uncovered, until thick, loose, and porridge like, stirring occasionally.  Discard the star anise. Season with salt and pepper to taste.  Divide the dhal among serving bowls and spoon red onion jam (warm if necessary) on top. Refrigerate any leftover jam.

The Culinary Chase's Note: Dhal can be quite bland on its own but jazzed up with a generous dollop of onion jam and you'll be licking the bowl clean!
The post Red Onion Jam with Dhal appeared first on The Culinary Chase.