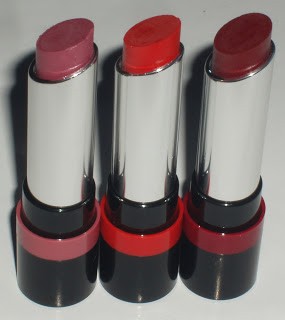 Rimmel's launch for The Only 1 lipsticks was somewhat quiet, except for coverage on a few UK blogs, but they deserve more than that, with some notes
Claim to be full coverage with one swipe, vibrant, luminous and long lasting while being moisturizing and comfortable, these lipsticks perform a lot like Maybelline creamy matte lipsticks, except for the finish of course.
According to the brand, the lipsticks are formulated with an oil blend for glide and lightweight feel, Rosa fruit oil and vitamin E for moisturization and advanced polymers for staying power.
I hunted down the 3 shades I wanted the most: It's a Keeper, Call Me Crazy and One of a Kind and love them quite a lot.
Note #1: Canada only gets 12 from the full range of 15 shades available in the UK:
– 110 Pink a Punch, 120 You're All Mine
– 200 It's a Keeper
– 300 Listen Up
– 510 Best of the Best
– 600 Peachy Beachy, 610 Cheeky Coral, 620 Call Me Crazy
– 700 Naughty Nude
– 800 Under My Spell, 810 One of a Kind and 820 Oh So Wicked.
So, 100 Pink Me Love Me, 500 Revolution Red and 710 Easy Does It are UK exclusives.
Note #2: Smaller Shopper locations only have a display of 7 shades, because of limited shelf space I assume. It took me a few trips to gather these 3.
Note #3: The finish of these lipsticks starts out satin, then slowly turns to semi matte as they wear off. The fading naturally starts from the inside of the lips but in general, they wear quite well.
Pigmentation is great with all 3, only requires a thin second layer to perfect the application. The flat slanted tip requires more patience to stay within the lip line
Left: luminous shine in the sun, right: muted finish in the shade. It's a Keeper (far left) gives my dark lips the most natural pink tint, the only shade with very subtle shimmers (note #4).
Call Me Crazy is very bright, rivals the level of Maybelline Color Sensational Vivids while One of a Kind is the darker red that is easier to wear, very flattering on medium skin tone.
Final note: quality in the line is not as consistent as that of Maybelline creamy mattes, as certain shades apply more patchy than others, e.g. Under My Spell which I skipped.
The lipsticks are 0.11oz/ 3.4g, $7.98 each at Walmart or $9.99 at Shoppers.