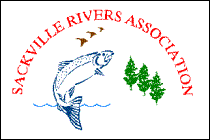 This month's meeting on Thursday, April 5 at 7 p.m. (45 Connolly Road in Sackville) will be on the province's effort to save over 12% of Nova Scotia's Land mass.
We will pick out sites on the Sackville River Watershed to save and then we will pick out sites around the Province that you think are worth saving.
See you there – come and help us save the wild lands of Nova Scotia!!!
Our guest Speaker will be Kermit deGooyer, Protected Areas Planner with Protected Areas and Wetlands Branch of NS Environment since 2010. Previously a wilderness campaigner with the Ecology Action Centre, deGooyer is from Yarmouth, but has mostly lived in HRM in the past 22 years.
The talk is about the provincial government's initiative to protect 12% of Nova Scotia by 2015. He will describe consultation process, profile a few areas being reviewed, and seek feedback for areas under review, including in HRM and province-wide.
There is a lot of background material, including maps, on NS Environment's website: www.gov.ns.ca/nse/12percent.
Source: http://www.bedfordbeacon.com/sackville-rivers-association-monthly-meeting