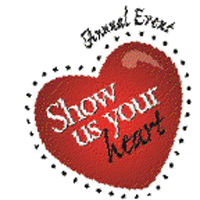 Help Homeless Pets find love this Valentine's!
February 12-19, 2011
Global Pet Foods and Hill's Science Diet are asking Canadian pet parents to help homeless pets find love during the annual Show Us Your Heart fundraiser.
The Show Us Your Heart campaign raises much needed funds for animals across Canada. We have successfully generated over $150,000 for pets in need since 2007.
"Show Us Your Love" is unique because our store owners each select a local shelter or rescue group to support. Your local HRM stores have selected Greyhound Friends of Nova Scotia as this year's recipient. This organization promotes the Welfare of Ex-Racing Greyhounds.
Meet a Greyhound
Visit one of our stores in either Bedford, Dartmouth or Halifax on February 12th from 10 a.m. to 2 p.m. to meet a fabulous retired Greyhound and learn about the adoptive process. They may even return on the 19th.
To donate
Visit Global Pet Foods in Dartmouth, Bedford or Halifax from February 12 to 19 and find out how to receive up to 10 BONUS Air Miles!
About Global Pet Foods
Global Pet Foods HRM (Halifax-Dartmouth-Bedford) is locally owned and operated. We do not sell animals and encourage adoption from local shelters and rescue groups. We specialize in providing a vast selection of wholesome, natural pet foods and a wide variety of quality pet accessories and supplements. We also like to cater to the small animals.
Thanks to our generous customers, Global Halifax and Dartmouth are the top fundraisers in all of Canada! With your help, let's do it again!
Locations
Bedford Commons, 30 Damascus, Bedford, 835-2250
Westphal Plaza, 100 Main Street, Dartmouth, 434-8361
Bayers Lake, 201 Chain Lake, Halifax, 876-0894
Visit www.globalpetfoodshrm.ca for more info.