For the love of kale!  I can't seem to get enough of this green veggie.  This queen of greens is super nutrient rich with an excellent source of vitamins A, C, and K.
  Keep in mind, though, that flash cooking helps kale to preserve its nutrients.  Spaghetti squash has been around for years. I've used it with lemon and pistachio, and in a casserole.  Spaghetti squash, like the name infers, gives you spaghetti-like strands when cooked. You can use it as a substitute for practically any pasta dishes. I've even seen it used in mac 'n cheese! This recipe is a winner…two hands down, no doubt about it!
Serves 2 to 4
adapted from Simply Recipes

3 lb. spaghetti squash
3/4 lb. sausage (small chunks removed from casing)
1/2 cup minced red onion
3 cloves garlic, minced
2 cups chopped kale (cut away thick spine and discard)
1 cup (or more) grated Parmesan cheese
1 tablespoon oregano
sea salt and freshly ground black pepper
olive oil
1. Preheat oven to 375°f. To prepare the squash, cut in half lengthways and scoop out seeds with a spoon. Smear olive oil on each half and then season with salt and pepper. Place, cut side down, on a baking tray and roast 35 minutes. Remove from oven, turn squash halves upside right and fluff with a fork.
2. In a large sauté pan, heat 3 tablespoons olive oil over medium heat. Add the onions and cook until soft, about a couple of minutes. Then add sausage and oregano and cook until sausage starts to brown. At this point add the kale and stir until the kale wilts. Add garlic and cook for a minute more.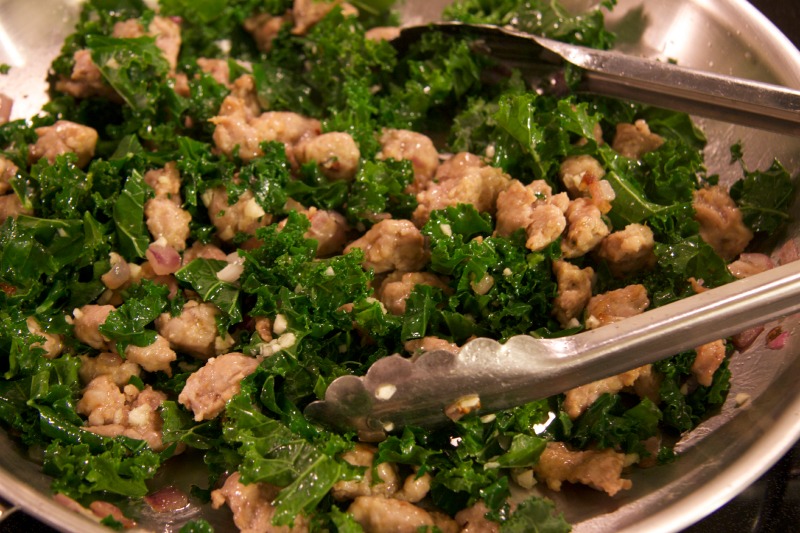 3. Add spaghetti squash strands to the pan; stir to combine. Once heated through add the Parmesan. Serve immediately.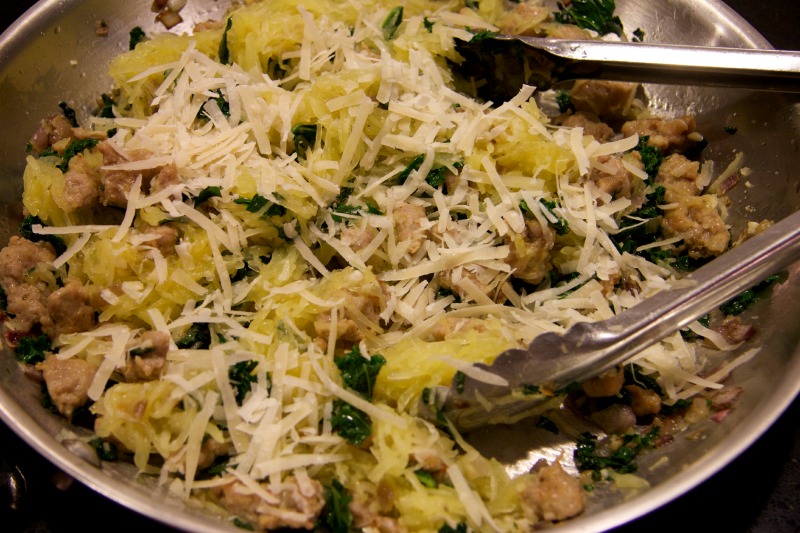 The Culinary Chase's Note: If you don't have time to roast the spaghetti squash in the oven you can place it, cut side down, in the microwave (10 to 12 minutes). Just remember to poke the skin with a fork.  Add chili flakes for added heat or chose a spicy Italian sausage.  Enjoy!
The post Spaghetti Squash with Sausage and Kale appeared first on The Culinary Chase.