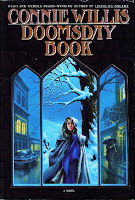 One of our intentions at The Reader is to offer up reading suggestions, however, an interesting and fun by-product is that we often get reading suggestions ourselves. Other staff here at the library often want to see their favourite book or author featured. Always I will say, please write about the book since its always best to hear first hand from an enthusiastic reader. But no, shyness or something else prevails and I just can't talk them into it. If they are enthusiastic enough they might convince me to pick it up and try it myself. Sometimes I'm lucky enough to find a really great book that I would probably never pick up on my own. Such was the case with Doomsday Book (M) by Connie Willis.

It is 2054 and a band of adventure seeking Oxford based historians have developed the technology to travel back in time. Kivrin, a young female historian, wished to travel back to 1320 despite the dangers of being an unaccompanied woman during this era. The preparation is rigorous and Kivrin must learn 14th century survival skills, have a basic understanding of the language and undergo inoculations and medical procedures to guard against disease. Kivrin's technician falls ill with a 21st century influenza and, in his delirium, sends her to 1348 in the midst of the Black Death. Her team falls prey to the illness one by one and by the time they realize the error it may be too late. Kivrin is absorbed into a family unit, and rather than being a mere historical observer, she must play a caring role with the people she has grown to love. Meanwhile, in modern times, we see that medical science has improved out physical care, but we have hardly evolved in our handling of stressful and deadly situations.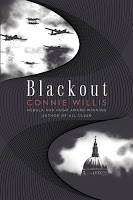 I am so pleased this book was recommended to me. It is exciting and action-packed, yet filled with so many ideas about how our perception of history would change with time traveling technology. Doomsday Book featured characters passionate about their research, professions and each other with a perfect sprinkling of comic secondary characters to relieve the bleak atmosphere and offer up a good laugh. Willis has won the Hugo and Nebula awards and best of all has continued this story with the recent and award winning Black Out (M) and All Clear (M).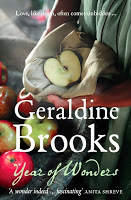 Fans of time travel and historical fiction might also want to consider Year of Wonders (M) by Geraldine Brooks."When an infected bolt of cloth carries plague from London to an isolated village, a housemaid named Anna Frith emerges as an unlikely heroine and healer. Through Anna's eyes we follow the story of the fateful year of 1666, as she and her fellow villagers confront the spread of disease and superstition. As death reaches into every household and villagers turn from prayers to murderous witch-hunting, Anna must find the strength to confront the disintegration of her community and the lure of illicit love. As she struggles to survive and grow, a year of catastrophe becomes instead annus mirabilis, a "year of wonders."" publisher
Source: http://www.thereader.ca/2012/05/staff-pick-doomsday-book-by-connie.html