The British Royals have been much in the news and in print this year thanks to the celebrations for the Diamond Jubilee ( … and maybe other antics that have probably been discussed enough already). Amongst the crop of royal books is Young Prince Philip: his turbulent early life (M) by Philip Eade. Probably most of us can only picture Prince Philip as an older, if not elderly, man – grumpy, impatient and speaking his mind when it might have been better to pause and maybe say nothing. Eade covers the first part of his Philip's life up to Princess Elizabeth's coronation.
Born a prince in his own right, Philip was heir to the throne of Greece, though he was of German and Danish descent. Exiled from Greece in the 1920's, Philip's family quickly broke down. His father more or less retired to the south of France and his mother's mental health deteriorated. His much older sisters soon married and established homes of their own. Philip divided his time amongst school, his maternal grandmother at Kensington Palace, assorted uncles, his sisters and whoever else was likely to take him in. When asked what language he spoke at home, he laughed and said, what home. Philip was a child with a large extended family, but no comforting home of his own to soften his rough edges. In 1939 he began a promising career in the Royal Navy and came to the attention of young Princess Elizabeth. After the war they eventually married and much sooner than either wished, Elizabeth ascended to the throne in 1952. Philip gave up his career in the navy to support his wife, always walking several steps behind her.
Eade's biography is respectful and informative, but certainly not a gossipy tell-all. He addressed the rumours of Philip's infidelities, but doesn't seem to put much stock in the stories. During his time at school he is frequently praised for his hard work and sense of duty, while already noted for being impulsive and impatient. Eade doesn't descend into armchair psychology, but does paint a picture of a boy without a home and whose advisors may not have been thinking of him first and foremost. He grew up without a name – he was known as Philip of Greece – until the name Mountbatten was finally handed to him. Adding to his aloneness, he was not allowed to hand his surname onto his children. Despite all this we see young Philip the charmer, the prankster and the very handsome subject of many photographs.
Reading Young Prince Philip will likely interest you to find our more about his mother's fascinating life. Try Alice: Princess Andrew of Greece (M) by Hugo Vickers.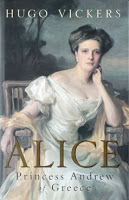 "Princess Alice, mother of Prince Phillip, was something of a mystery figure even within her own family. She was born deaf, at Windsor Castle, in the presence of her grandmother, Queen Victoria, and brought up in England, Darmstadt, and Malta. In 1903 she married Prince Andrew of Greece and Denmark, and from then on her life was overshadowed by wars, revolutions, and enforced periods of exile. By the time she was thirty-five, virtually every point of stability was overthrown. Though the British royal family remained in the ascendant, her German family ceased to be ruling princes, her two aunts who had married Russian royalty had come to savage ends, and soon afterwards Alice's own husband was nearly executed as a political scapegoat. The middle years of her life, which should have followed a conventional and fulfilling path, did the opposite. She suffered from a serious religious crisis and at the age of forty-five was removed from her family and placed in a sanitarium in Switzerland, where she was pronounced a paranoid schizophrenic. As her stay in the clinic became prolonged, there was a time where it seemed she might never walk free again. How she achieved her recovery is just one of the remarkable aspects of her story." publisher
Source: http://www.thereader.ca/2012/09/staff-pick-young-prince-philip-by.html