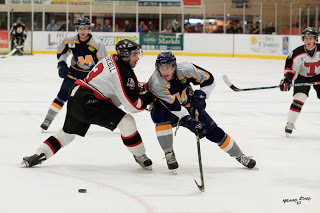 Belanger was an offensive dynamo for the Metros in September

Justin Belanger of the Metro Marauders has been selected by the staff of Haligonia Sports as the T-Zone Athlete of the Month for September.
Belanger scored 13 points in 8 games in September leading the Marauders to a 6-2 record, good for first place in the Bent Division.
Meet Justin Belanger
Team: Metro Marauders of the Maritime Junior Hockey League.
Number: 22
Justin is a Halifax native who spent the majority of the 2009/10 season playing for the Halifax Mooseheads. Currently, Justin is second in MJHL scoring with 20 points, trailing his teammate, Wayne Bedecki (21)
Favorite Pre Game Meal- Spaghetti and Meatballs
Favorite Player- Sidney Crosby
Favorite Team- Montreal Canadiens.
Favorite Activity off the Ice- Playing Lacrosse
Favorite Music- Hip Hop/Rock
Favorite Movie- The Goonies
Follow us on Facebook, search word Haligonia Sports, and on twitter @haligoniasports. Email us at haligoniasports@gmail.com. Haligonia Sports is the official webcaster of the Saint Mary's Huskies and Metro Marauders.
About T-Zone Health Therapy
T-Zone is one of the pioneers in Whole Body Vibration in Canada. Their machines are produced for the home and professional market and currently used by hundreds of outlets including chiropractors, physiotherapists, personal trainers, sporting clubs, nursing homes, retirement centers, and many more. They have a variety of health products that include chi machines, magnetics, and health food supplements. T-Zone also has a massage therapy service, electro reflex energizer, chi room and a whole body vibration room for people to exercise in.