Two lucky Nova Scotians have won free hunting and fishing licences for the rest of their lives.
Fisheries and Aquaculture Minister Keith Colwell and Travis MacLeod, president of the Nova Scotia Federation of Anglers and Hunters,...
Read More »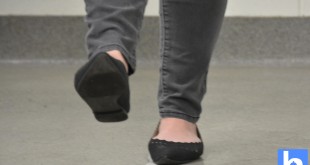 A partnership between the federal and provincial governments, and police agencies, will see more front-line police officers trained to detect impaired driving and keep roads safe.
Nova Scotia has developed a plan that will...
Read More »
Communities across Nova Scotia are working with government to tackle complex poverty-related issues.
Through the Poverty Reduction Government Innovation program, government departments can partner with community organizations...
Read More »
A new main entrance will give patients, members of the community and health professionals better access to the Dartmouth General Hospital.
The work is part of the expansion and renovation project with the QEII New Generation...
Read More »
The province will modernize the environmental assessment process for small oil refineries, while protecting the environment. Currently, any refinery producing more than 15,000 litres of fuel per day must undergo a Class II environmental...
Read More »
Auditor General Michael Pickup issued his 2018 performance audit report today, Dec 11. The report contains three chapters of audit results.
The auditor general expressed significant concerns about governance of Nova...
Read More »
Community groups can now apply for grants to help develop and test new ways to prevent domestic violence and support victims and their families.
Government announced today, Dec. 10, that two types of grants are available to...
Read More »
A new culture hub in Halifax will strengthen small business development, drive economic growth in the culture sector and be a place for artists to gather and perform.
Today, Dec. 10, the Government of Nova Scotia, Invest Nova...
Read More »
Recipients of the 2018 Nova Scotia Human Rights Awards were honoured at a ceremony today, Dec. 10, at the Halifax Central Library.
Each year, the Nova Scotia Human Rights Commission recognizes Nova Scotians nominated by their...
Read More »
An innovative free online training course launched by the Nova Scotia Human Rights Commission in March 2017 has now been adapted to serve a national audience.
Serving All Customers Better was launched today, Dec. 7, in Toronto,...
Read More »