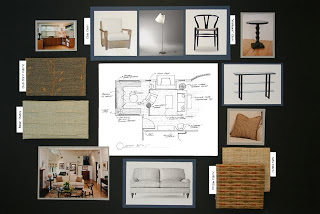 Design is a very visual thing. Sounds obvious, right?
For some of us, we can see many design elements and how they will all come together in our head. For some of us, it's much more challenging to go from concept to details. Either way, it can be overwhelming. And if it's not, sometimes it's just plain hard to keep all the details straight.
And sometimes it can be tricky to keep your focus on the overall look you want to achieve when you are faced with buying fixtures, finishes, furniture, paint, accessories….etc.
The most helpful design trick is to create a storyboard. Get a piece of foamcore, or a bulletin board…even a white board will do. Something sturdy that will take a bit of a beating…you are going to be referencing it a lot!
Now, tack (or tape) EVERYTHING to it that relates to your project. If you are doing a complete design, start with a sketch of your room, with measurements. Add a picture of a room you'd like yours to look like (just for the look and feel…the overall design inspiration!), then add pictures of furniture styles you like, paint chips of the colors you are considering…and anything else that you have in mind for the room…maybe it's fabric, or accessories, or artwork, or lighting options…put it all here.
Now, take a step back and have a good look.
Then, start to edit. Be brutal. Take off anything that no longer fits the overall vision you are hoping to achieve or now looks odd to you in the context of the other things on the board.
Put it in a place you can see if often. It's a much more visual way of getting a good look at your thoughts and ideas, before you commit to them.
You should end up with a storyboard that gives you a focused direction. Use it to add, delete or consider any other ideas as the project evolves. Put things up there, take some things off.
Take your time and carefully consider your options over a period of time…is this the look I want? Does this feel the way I want it to feel? does this look good in the same room wiht that? If I change this one thing, how does it affect the others?
I promise it will be worth your while and help you make faster, more confident decisions! Don't be shy to take it with you when you shop, or when you are consulting with the experts involved in your project. Trust me, they will appreciate how much easier it makes their job (and yours). A picture really is worth a thousand words.
Stay tuned to see the storyboard for my upcoming renovation…and for the next update in "reno chronicles"!
For more about rouge, visit www.littlered.ca or check out past blogs at www.justalittlerouge/blogspot.com
Source: http://justalittlerouge.blogspot.com/2011/03/tell-me-story-actually-show-me-one.html