As I said in my post on the red carpet, the ludicrous nominations meant I wasn't incredibly invested in the Golden Globe awards this year. For the most part, the winners were pretty predictable – you can see a full list here. But I do have some thoughts, so click on through and then head to the comments to tell me how you felt about the show.
I liked Tina Fey and Amy Poehler as hosts. As I said on Twitter, I'd much rather watch two witty ladies stand around and tell jokes than see that sleazy-looking Seth McFarlane do the snarky baby voice. Here were some of my favorite jokes from the duo:
Tina: "Ricky Gervais could not be here tonight because he is no longer technically in show business."
Amy: "Kathryn Bigelow's nominated tonight. I haven't really been following the controversy over Zero Dark Thirty, but when it comes to torture, I trust the lady who spent three years married to James Cameron."
Tina "Anne Hathaway, you gave a stunning performance in Les Miserables. I have not seen someone so totally alone and abandoned like that since you were on stage with James Franco at the Oscars."
Amy: "Meryl Streep is not here tonight. She has the flu — and I hear she's amazing in it."
Dog President.
"An actor so versatile, that he played Iron Man in three different movies!"
There were some highlights from the show. Taylor Swift's face when Adele won best song, Paul Rudd being adorable when the teleprompter went out, Kristen Wiig and Will Ferrel being hilarious and weird together, and Jennifer Lawrence's charming speech are things that come to mind. Also, drunk Glenn Close.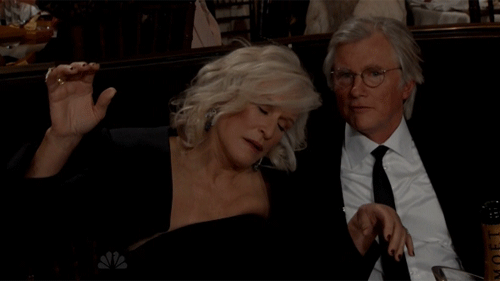 The awards for TV were pretty predictable. Homeland cleaned up in its categories. Lena Dunham won for acting in Girls, and while I was hardcore rooting for Poehler (btw, her bit with Clooney and Tina Fey with J.Lo was hilarious), I had to be happy for Lena Dunham. She seemed truly overwhelmed and appreciative. I feel like some people will bag on the fact that she wrote her speech down, but it's what anxious people do. Girls also won Best TV Comedy, which is absolutely fine since Parks wasn't nominated and nothing matters at all. Plus, it was pretty hilarious and adorable when she thanked Chad Lowe.
Movies were more of a mixed bag. Anne Hathaway won, of course, and Hugh Jackman, and Les Mis. But Quentin Tarantino was a surprise for screenwriting and Christoph Waltz for acting in Django Unchained. (I still haven't seen that.) I was really pleased that Ben Affleck won for Argo, and it really felt like everyone in the room was happy for him as well. Jennifer Lawrence and Jessica Chastain both won for acting in their categories, and they both gave lovely speeches. No won was surprised when Daniel Day Lewis won for Best Actor – Drama. I'm sure he's great. I still don't want to see Lincoln.
Argo won for Best Drama, which was a huge surprise – I really thought Lincoln would take it. I'm thrilled. I really, really liked the movie and I adore Ben Affleck.
The most uncomfortable moment of the night was Jodie Foster's acceptance speech for the Cecil B. DeMille award. It was a weird, rambling commentary on the importance of publicly acknowledging one's sexual orientation vs. the importance for a celebrity to have a private life. It was weirdly timed, incoherent, and awkward.
Well, that's a wrap! Considering my low expectations, I actually think the Globes were pretty good this year. What do you guys think?
Source: http://feedproxy.google.com/~r/Couchtime/~3/BOot2s7OUZk/