Sugar sells. No matter what age you are and no matter what your interests in life, as a human being in the 21st century, you're bound to have something of a sweet tooth. Our universal love for sugar and sweet things continues to grow year on year, with 175.5 million metric tons consumed worldwide between 2021 and 2022. The countries which seem to love sugar the most are, unsurprisingly, those with larger populations like India and China. However, it's safe to say that sugar is beloved wherever you go in the world, whether it comes in the form of boiled sweets, cookies, chocolate or grass jelly.
So, what does this have to do with small businesses? Well, when you are launching a new product, or an ad campaign for an existing one, deciding on a theme can be tricky. Most businesses want to go for something with a broad appeal – and choosing a sugar-sweet subject can forecast immense success. With their bright colours, pleasing shapes, memorable names and mouth-watering associations, sweets are likely to trigger happy feelings in anybody looking at them. Therefore, using them to build your product's identity can only be a good thing.
With that said, let's take a look at some of the most scrumptious and successful sweets-themed products on the market today.
Games Full of Goodies
It's safe to say that Candy Crush Saga, a match-3 game from publisher King, has become something of a worldwide phenomenon since its initial release in 2012. It was one of the earliest freemium games to claim a revenue of over $1 billion, and now has over 255 million users. The game has been downloaded over 3 billion times and has racked up over 10000 levels to keep all of its eager fans occupied. But, what's it all about? The premise is relatively simple: players must match 3 identical sweets in a row in order to clear the board, gain points, earn bonuses, and progress on their journey through the Candy Kingdom. With characters like Mr Toffee and Bubble-Gum Troll on hand to help, this title has been hailed as the perfect casual escapist game to pick up during a quiet moment.
Another game making full use of its sweets-themed motif is Sweet Bonanza from publisher Pragmatic Play. Amidst a world of candyfloss confectionary appear icons such as lollipops, gummy hearts and fruits which act as the symbols in this 6×5 reel sugary extravaganza. Slots games are the most popular genre of online casino titles, and this example does not disappoint. Free spins can be triggered by the lollipop scatter symbol, and, with a slightly larger set-up on screen than your average slot, winning symbols are able to appear anywhere on the board rather than strictly next to one another. As long as 8 or more of the jewel-bright winning icons appear, a win is possible.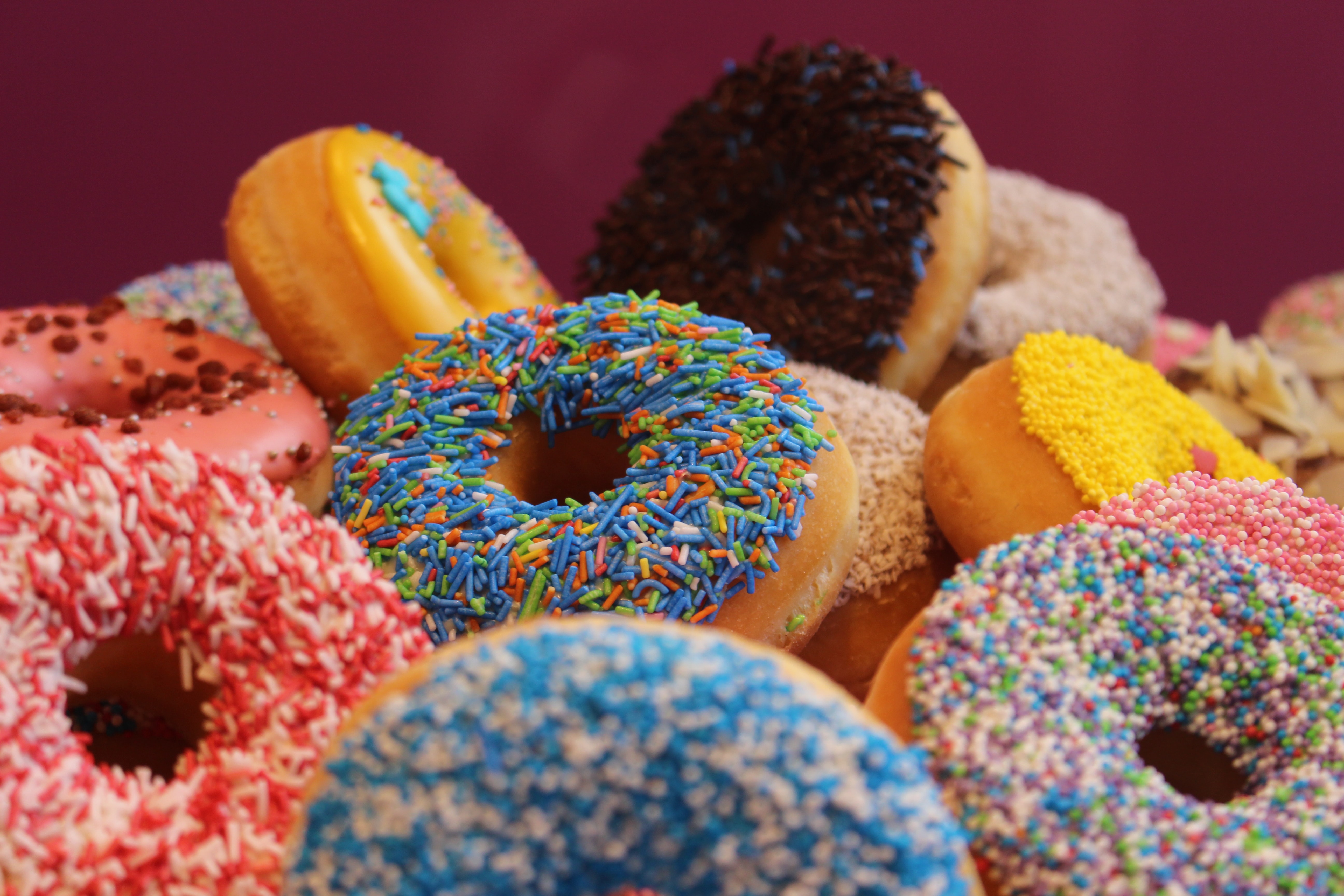 Pudding-Themed Palettes
Makeup brand Too Faced is well-known the world over for its sweets and chocolate themed eye, lip and cheek palettes, along with accompanying products. Covering 'flavours' from Sweet Peach to Pumpkin Spice to Yummy Gummy to Better Than Chocolate, this company is the best in the business when it comes to creating sell-out sugar themed products with 0g of sugar. The original Chocolate Bar eye palette not only tempted customers with its rich pigmented colours and long-lasting powders, but offered them a multi-sensory experience. Each eyeshadow smelled irresistibly like sweet cocoa and the case they were housed in had a tactile chocolate bar shape.
Branching out from chocolate, the brand now offers palettes which smell like freshly baked cookies, donuts, and even pumpkin spice lattes, whilst colours range from the bold pastels of gummy bears to the bright pinks of cotton candy. Chocolate-infused bronzers and cocoa-themed lipsticks continue the original chocolate palette's legacy, and beauty fans can't get enough of these sweet-smelling high quality items. Popular products frequently sell out and demand remains constant for makeup which doubles up as a guilt-free sweet treat.
Sanitising Sweetness
One of the most unexpected yet successful collaborations seen in recent years is the one between UK hand wash brand Carex and UK sweets manufacturer Swizzels. Combining the unmistakeable scent of classic sweets such as Love Hearts and Strawberry Laces with the germ-busting power of Carex hand soap and sanitiser has proven to be a big hit with customers. What was once suggested as a limited edition experiment has now become a mainstay in Carex's product portfolio. They have even rolled out Drumstick Squashies shower gel, allowing mega fans to smell like their favourite candy all day and stay clean at the same time.
Although this may seem like a particularly strange crossover, it could, instead, be a stroke of genius. Hand wash and other soap-based products are a necessity in life but in order to truly diversify their appeal, manufacturers have to tap into different USPs (unique selling points). Sometimes this includes practical features like moisturing agents or aesthetics-inspired ideas like colours to match bathroom décor; however, combining the fun and appetizing scent of sweets with an important healthcare product increases the appeal and profile of both, which is good news for everyone.
Candy or Candle?
The Yankee Candle brand has become synonymous with the idea of being able to buy a candle featuring almost any scent imaginable. From White Tea to Pink Sands to A Calm & Quiet Place, the company offers fragrances both tangible and abstract in their products including candles, reed diffusers, wax melts and more. One of their most popular themes, however, is that of sweets. Festive favourites like Christmas Cookie and Peppermint Pinwheels always prove popular once the winter months roll around, but scents like Spiced Banana Bread, Vanilla Cupcake, Crème Brûlée and Mango Ice Cream are trendy all year long.
This is another perfect example of how stimulating the senses doesn't have to be limited to tucking in to your favourite sweets, candies and desserts day after day. The success of candles and hand soaps which smell but crucially don't taste like those beloved confections comes from giving people a healthy, enjoyable reminder of popular sweet treats without the worry of consuming too much sugar. People are always going to gravitate towards familiar items which remind them of good times and pleasant experiences, so marrying up that imagery with your own product is a match made in heaven.